News > Idaho
Riding for a cause
Sat., Sept. 10, 2005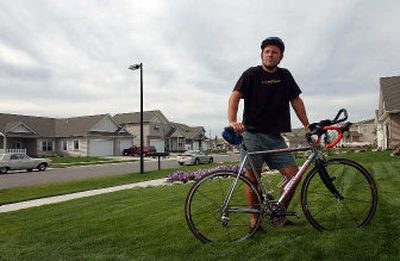 When riding his bike up Potlatch Hill Road or taking a second lap around Hayden Lake, Mark Hayden doesn't think too far ahead. He doesn't dwell on the 150 miles he hopes to ride that week or the climbs he faces later. He just focuses on making it to the top of each hill.
"You just break it into sections," he said. "I think of it as a goal. If I can conquer this, what's my next thing? That's how to tackle life."
One goal for Hayden is 100 miles and $2,500 dollars dedicated to the Lance Armstrong Foundation as he participates in the LIVESTRONG Ride Portland on Sept. 25. Hayden's training time has been sandwiched between his children's activities and his night-shift work schedule this summer. He is a registered nurse on Kootenai Medical Center's General Surgical Unit, where he's worked for 10 years.
He's noticed that the patients admitted to his unit for cancer surgeries seem to be getting younger. In recent years he's cared for 20- and 30-year-olds who are facing the disease. Some arrive at the hospital believing they're having a gallbladder attack or some other curable problem, only to find that they have a terminal illness.
"Your life is changed forever," he said. "One of these days I could go in for my physical, and that could be me. I have two young children who need to be provided for."
The struggles of his cancer patients motivated Hayden to join the LIVESTRONG ride, and the connection with Lance Armstrong made this fund-raiser appealing. During this summer's Tour de France, Hayden and his wife, Holly, faithfully taped the three-week race and watched it together. They followed Armstrong's career as Tour de France victor for the last seven years through the televised races and books. It was Holly who surfed the Internet and found an opportunity to help Armstrong's cause by volunteering to work at the Portland ride. She signed up to help with the event and told her husband that he should enter.
"My wife is one of the most giving people I've ever seen in my life," Hayden said. "She always will give 100 percent."
By the time Hayden got around to registering for the ride, it was already filled to capacity at 5,000 participants. He told his wife and she said not to worry. She had already signed him up.
Riders may commit to riding as few as 10 or as many as 100 miles. The 100-mile route includes several significant climbs. Two will rise 800 vertical feet, and one climbs 1,600 feet while taking bike riders through a panorama of snow-capped mountain peaks.
Hayden's fund-raising goal is $2,500, and he is close to the halfway mark. More donations will mean more money to the foundation for cancer research and education, plus a chance for Hayden to meet Armstrong at a pre-race dinner and receive a preferred position at the starting line. At 34, Hayden is close to Armstrong's age and admires all he has accomplished as a bike champion and cancer survivor.
"I don't think anyone has done as much for a single cause as he has," Hayden said. "What he has done is just phenomenal. I've never ridden for a cause before. If he can start from nowhere and make a difference, maybe I can make a difference."
Hayden grew up in a military family with a "Type-A" father, he said. Planning for money and retirement were the values he learned. His family lived in Europe before settling in Coeur d'Alene in 1980. Hayden graduated from Coeur d'Alene High School and North Idaho College. He looked for a job where he could "make a difference" rather than make the highest income and believes that in nursing he has found "the best job in the world."
Challenging himself on a bicycle is not a new hobby for Hayden. He participated in a 24-hour mountain bike endurance race with friends in May and has always enjoyed individual sports. He was a wrestler in high school and college. Listening to music – usually country – makes the time pass as he marks miles on his 16½-pound aluminum and carbon fiber bike.
Hayden credits his wife's good influence in helping him live for today and enjoy his time with his children. Besides pedaling miles on a bike, he shares with Armstrong a desire to become a better parent. As he strives for 150 miles on the bike each week, he doesn't worry about the road that lies ahead of him. He doesn't ruminate about what his life will be like at age 80.
"If you look toward the end, you're going to miss the beginning and middle," he said. "That's just a long way to ride."
Local journalism is essential.
Give directly to The Spokesman-Review's Northwest Passages community forums series -- which helps to offset the costs of several reporter and editor positions at the newspaper -- by using the easy options below. Gifts processed in this system are not tax deductible, but are predominately used to help meet the local financial requirements needed to receive national matching-grant funds.
Subscribe to the Coronavirus newsletter
Get the day's latest Coronavirus news delivered to your inbox by subscribing to our newsletter.
---