Sports
Seattle must seize success
Sun., Sept. 11, 2005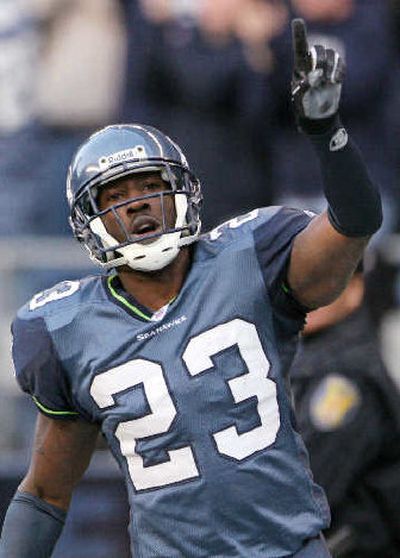 JACKSONVILLE, Fla. – Of all the 326 games, the 39 stadiums and 31 different opponents the Seattle Seahawks have faced since the end of the 1984 season, they have run into exactly one opponent they just can't overcome:
That pesky hump.
It's the one that separates a playoff team from an actual Super Bowl contender. For 20 consecutive years, the Seahawks have been unable to win a single postseason game.
So they head into another season with the same goal: that this will be the year they finally win another playoff game.
"This year could be big for us if we can get over that hump and really get things going," said cornerback Marcus Trufant, a Tacoma native, former Washington State University player and longtime Seahawks fan. "I know for a fact that the city would rally behind us. They're already behind us now, but they're waiting for us to take that next step so they can really go nuts."
For more than 20 years, the team has gone through an ownership change, four different head coaches, more than 1,000 players and a countless number of broken dreams. Still, the playoff victory remains elusive.
The more philosophies and personnel change, the more the results have stayed the same. Because of that, the problem might be deeper than X's and O's.
"In my heart of hearts," running back Shaun Alexander said last month, "it feels like the town still gets excited about just making the playoffs. And that's what you've got to kill.
"I'm not saying it's right or wrong, but if you just set one goal – 'We're destroying everyone and winning the Super Bowl' – then that's just it. It's win or lose."
Plenty of big names have come through Seattle promising to end the drought – Seattle has an NFL-record six-game losing streak in postseason games – and yet none of them has done anything to change it. Ricky Watters, Chad Brown, John Randle and Jerry Rice were among the former Pro Bowlers brought in to try to get the team over the hump. Head coaches Tom Flores and Mike Holmgren brought Super Bowl rings and promises of new beginnings to Seattle.
None of it has resulted in a single playoff victory.
"Hopefully, this is the year," Trufant said. "We've made a lot of changes, both on the defense and in the front office. A lot has changed on the team, and hopefully we can get things moving in the right direction.
"We're headed in the right direction now. We just have to try to get over the hump."
Other players are less concrete about what it will take for this year's Seahawks to win a playoff game.
"Hope," said longtime Seahawks fullback Mack Strong, who has been with the team since 1993. "I really think we have the personnel here. There are a lot of guys who are really focused. We've prepared very well, and now it's time to go out and perform."
The first step toward ending the drought comes today, when the Seahawks face the Jacksonville Jaguars in the regular-season opener. While neither a win nor a loss will dramatically affect Seattle's playoff hopes, the official debut of the 2005 Seahawks could tell people a lot about whether this team could be the one to get over the hump.
"It's just about getting it done," Pro Bowl offensive lineman Walter Jones said. "Everybody came here and worked hard in training camp, and they just want to get it done. When you work this hard, you want to get over that hump. That's our goal.
"Our No. 1 goal is to get to the Super Bowl. But we want to get over that hump, and that can start (today) in Jacksonville."
This year's Seahawks have a new set of fresh faces, including a few veterans who believe they can be the missing piece. Like Watters, Brown, Randle and Rice before them, some of Seattle's newest veterans believe the end of the playoff drought is near.
"After three years of not winning many games or going to the playoffs (with the Houston Texans), I wanted to come to a team that was winning," said linebacker Jamie Sharper, also a former Baltimore Raven who is one of four new veterans with Super Bowl rings. "I believe I can help them get to that next level."
Last year's prized free agent, defensive end Grant Wistrom, is also optimistic that things will turn around soon. He sees postseason success in the near future, no matter what the past 20 years may have held.
"That's why I came here," Wistrom said this week. "I didn't come here to finish my season in late December, early January every year. I came here because I know we have a chance to go to the playoffs every year. I firmly believe that, and I think every guy in this locker room believes that too.
"That's why I came here, and that's what we're going to do this year."
One of these years, anyway, because Seattle's fan base might not be willing to wait another 20.
Local journalism is essential.
Give directly to The Spokesman-Review's Northwest Passages community forums series -- which helps to offset the costs of several reporter and editor positions at the newspaper -- by using the easy options below. Gifts processed in this system are not tax deductible, but are predominately used to help meet the local financial requirements needed to receive national matching-grant funds.
Subscribe to the sports newsletter
Get the day's top sports headlines and breaking news delivered to your inbox by subscribing here.
---