Sports
Withrow rates a cut above
Sun., Sept. 11, 2005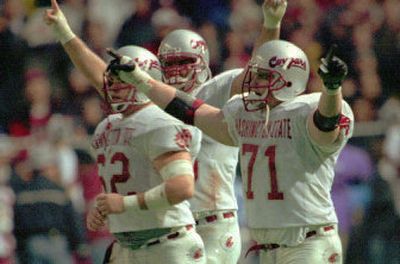 Cory Withrow hasn't had what some might call a storybook NFL career, but he's proudly carved out a lengthy career with no shortage of amusing and poignant stories.
In a phone interview earlier this week, the Mead High and Washington State University product was recounting how many times he's been cut but couldn't come up with an exact figure.
"The first couple years I got cut four or five times, I think," he said.
Reminded that Minnesota released him in the off-season to avoid having to pay him a sizable roster bonus, Withrow quickly audibled.
"Yeah, I did get released again," he said with no hint of animosity. "That's six."
So who will be the starting center for the Vikings when they entertain Tampa Bay today? Withrow, naturally.
Withrow joined the Vikings in 1998 as an undrafted free agent and was soon sent packing. He ended up on Cincinnati's practice squad. At one point during his rookie year, he was a substitute teacher in Auburn and worked at Costco for a few months.
In 1999, the Vikings cut him again, but he stuck on the practice squad before joining the 53-man roster near midseason.
In 2000, he made his NFL debut on special teams and saw time in two playoff games. In 2001, he made his first start at right guard. In 2002, he continued to fill in at several spots on the line and also saw spot duty as a blocking fullback. In 2003, it was more special teams work, where he produced an 8-yard return of a squib kick.
"Actually I've returned two kicks; I had one for 12 yards," Withrow boasted. "It was good stuff (on the 8-yarder). I brought 8 yards of straight speed at somebody – and then I got destroyed."
In 2004, he made five starts at center in place of the injured Matt Birk. Minnesota was 3-2 in those games, including one that saw Daunte Culpepper pass for 404 yards in a win over Detroit.
Now, Withrow is filling in again for Birk, who had off-season hip surgery and is on injured reserved.
"I really don't know," Withrow responded when asked to explain his longevity. "I have some versatility, but I'm also not the biggest guy in the world. Intelligence may have something to do with it."
Intelligence, dependability, determination and experience all side with Withrow, who, at 285 pounds, is relatively small in NFL circles. One year he concentrated on adding weight, but he felt "real sluggish" and shed the extra pounds.
"Every good team has roles," line coach Steve Loney told the Mankato Free Press last month. "(Withrow) has a role to perform, and he performs it well. He keeps us going when Matt's not there."
Withrow and Birk are good friends and roommates during training camp. While grateful for the opportunity to start, Withrow wishes it was under different circumstances. But he also knows he has a job to do to help Minnesota, which is considered one of the top challengers to Philadelphia and Atlanta for NFC supremacy.
"I'm sleeping all right; I'm a little older and wiser, and I know I need my sleep," said Withrow, who returns to Spokane to visit his parents and play in an annual golf tournament. "I remember my first start (in 2001) I was very anxious and we were playing Pittsburgh and they always have a great defense. I remember I didn't get a lot of sleep."
Armstrong sticks with Philadelphia
As a sixth-round draft pick, Calvin Armstrong sweated out cut-down day. In a way, it reminded him of draft day, only this time he was trying to avoid a phone call instead of wanting one.
"I was at the facility working out," the former WSU offensive tackle said. "If they needed to talk to me, I figured they'd come talk to me."
The silence was sweet for Armstrong, who will back up Jon Runyan in Philadelphia's opener against Atlanta on Monday night.
"It's been like the transition from high school to college," Armstrong said. "Everybody is just bigger, stronger and faster."
Armstrong has had the difficult assignment of blocking speedy defensive end Jevon Kearse throughout training camp and preseason.
"He's just an incredible athlete," Armstrong said. "It's going to make me a better player in the long run. If you don't have the perfect technique, he'll beat you every time. He's so fast."
Armstrong is still adjusting to his new surroundings.
"Philadelphia is about as different as you can get from Pullman and (his hometown of) Centralia (Wash.), but I live outside the city," he said. "It's getting better."
The NFL pace is different, too.
"It's a different lifestyle," he said. "You are expected to do things, get yourself ready to play, conditioning. They expect you to be in shape, so whether it's running or extra lifting it's just part of being a professional."
He learned some of those lessons from George Yarno, WSU's line coach and a former NFL lineman.
"I have to give him a call in the next few days and tell him thanks for all the work he put in with me," Armstrong said.
Roos draws start at left tackle for Tennessee
Former Eastern Washington Eagles player Michael Roos will make his NFL debut as the starting left tackle for Tennessee, which visits Pittsburgh today.
The spot was vacated by starter Brad Hopkins, who was suspended by the NFL for the opener after pleading guilty to assaulting his wife. Roos, a second-round draft pick, will probably move back to right tackle, where he's listed as the starter on the Titans' Web site, when Hopkins returns for Week 2.
Notes
Former WSU Cougars James Darling (linebacker, Arizona), Erik Coleman (safety, Jets), Rian Lindell (kicker, Buffalo), Lamont Thompson (safety, Tennessee), Marcus Trufant (cornerback, Seattle), Robbie Tobeck (center, Seattle) and Drew Bledsoe (quarterback, Dallas) are starters. Ex-Coug Jason Hanson, veteran kicker with Detroit, last year became the 20th player in NFL history to reach 1,300 career points. … Former Idaho Vandals Rick DeMulling (left guard, Detroit) and Jake Scott (right guard, Indianapolis) are listed as starters. Ex-Vandals player Brian Howard is a backup defensive tackle with St. Louis. … Ex-Coug Jonathan Smith is on Kansas City's practice squad. He's listed on the roster as McKenzi (his middle name) Smith. … Three former EWU Eagles are in the Canadian Football League. Bashir Levingston, who returned a punt 109 yards and a missed field goal 111 yards in one game this season, is with Toronto. Cornerback Ryan Phillips is starting with B.C., and Luke Fritz joins former WSU player Bryan Chiu as starting offensive linemen with Montreal.
Local journalism is essential.
Give directly to The Spokesman-Review's Northwest Passages community forums series -- which helps to offset the costs of several reporter and editor positions at the newspaper -- by using the easy options below. Gifts processed in this system are not tax deductible, but are predominately used to help meet the local financial requirements needed to receive national matching-grant funds.
Subscribe to the sports newsletter
Get the day's top sports headlines and breaking news delivered to your inbox by subscribing here.
---