News > Features
Celebrating love
Mon., Sept. 12, 2005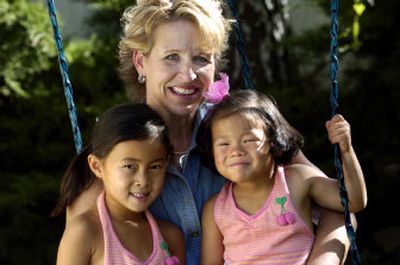 On her special day this summer, 6-year-old Sophia Waldenberg woke up to balloons in her room and a happy song playing on the stereo. She picnicked in the park, rode a carousel, ate ice cream and even got to cruise the aisles of a toy store for a present. "It's as big as a birthday," her mom, Carol Waldenberg, said of Sophia's adoption day.
A similar celebration occurs in November every year, to mark the day when Sophia's little sister, Olivia, 3, joined the family.
There's a twist to these adoption day celebrations. In addition to rejoicing the girls' new lives as a part of this family, they also make a special point to honor the families and country they left behind.
"The whole idea is to support and honor their birth country," Waldenberg said. "We do a dual celebration. We always honor the birth country. We're honoring the birth mommy and birth daddy, as well as the foster mommy."
They stop at their church to light a candle for their birth parents and foster parents in China. They read books about adoption and look at photo albums and mementos of their journey to adoption.
"I want it to be a positive experience," Waldenberg said, noting that Sophia talks openly and proudly of her adoption at school.
Adoption Day, also called Gotcha Day by some in the adoption community, is celebrated in big and small ways by families across the globe, and in the Inland Northwest.
Now, there's a movement under way to inspire families touched by adoption – both international and domestic – to celebrate their collective coming together.
Margaret Schwartz, author of "The Pumpkin Patch: A Single Woman's International Adoption Journey" (due out in October, go to www.pumpkin-patch.net) and her publisher Chicago Spectrum Press, have declared Sept. 15 to be International Gotcha Day.
Eighteen months ago, Schwartz adopted two boys from Ukraine.
"It was a turning point in my life," Schwartz said in a telephone interview. "It was such an extraordinary experience in my life I had to write about it because I didn't think others would believe me otherwise."
Since writing her story, Schwartz said she's been working with adoption groups to promote Gotcha Day and hopes it will encourage adoptive families that share their bond. She said she also hopes it will increase the public's awareness about adoptions and the different options available.
Spokane's Renee Siers wholeheartedly supports the idea of a Gotcha Day.
"I like that idea," Siers said, adding that she would definitely want to celebrate Gotcha Day in her family, which has grown through the adoption of two foster children she cared for.
She said the family already celebrates the days Michael and Natalie became "forever Sierses," usually with cake. But she said they try not to make it too big of a thing.
That's because, Siers said, sometimes she wonders if the kids grasp the difference. As a foster family, they're always working to make everyone in the home feel like a real part of the family.
But a special Gotcha Day, celebrated by thousands around the world, makes sense to her. "That way we could gear it toward a celebration of everybody," Siers said.
Waldenberg also likes the idea of International Gotcha Day because it focuses attention on children who need homes.
"Anything you can do to help a child come home to a family is a great thing," Waldenberg said.
Local journalism is essential.
Give directly to The Spokesman-Review's Northwest Passages community forums series -- which helps to offset the costs of several reporter and editor positions at the newspaper -- by using the easy options below. Gifts processed in this system are not tax deductible, but are predominately used to help meet the local financial requirements needed to receive national matching-grant funds.
Subscribe now to get breaking news alerts in your email inbox
Get breaking news delivered to your inbox as it happens.
---