News > Nation/World
Japan leader gets huge mandate
Mon., Sept. 12, 2005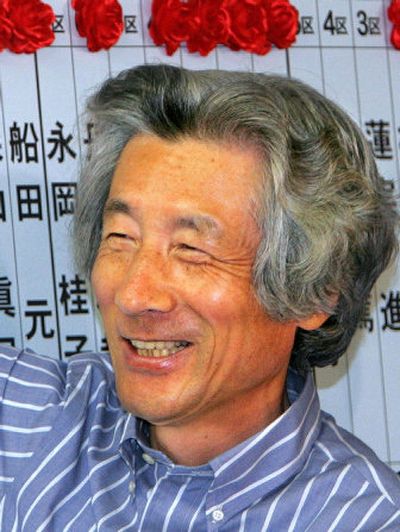 TOKYO – Prime Minister Junichiro Koizumi's ruling party won a landslide victory in general elections Sunday as voters handed Japan's maverick leader a remarkable mandate to enact a new stage of reforms in the world's second-largest economy.
The larger-than-expected triumph capped a bold gambit by Koizumi, who had put his job on the line in search of fresh public backing for his economic agenda, particularly privatization of the $3 trillion postal service, as well as for his vision of a stronger Japan more closely aligned with the United States.
Koizumi's Liberal Democratic Party won its largest majority in the 480-seat lower house of Parliament since 1986, winning at least 296 seats, a gain of 84. The party's smaller coalition partner, the Buddhist-led New Komeito, grabbed 34 seats.
The big loser was the opposition Democratic Party, which had hoped to seize power from Koizumi and had called for pullout of Japan's noncombat troops from Iraq along with withdrawal of U.S. Marines from Okinawa. Instead, the party won only 113 seats, down from 177.
While seen as a boon for Japan's halting reform effort and as a personal triumph for Koizumi, the prime minister's new mandate is likely to continue a period of heightened tensions in East Asia, particularly in Japan's relationship with China.
During Koizumi's four-year tenure, the region's two great powers have sparred over rights to drill for natural gas in the East China Sea and have engaged in a heated debate over Japan's perceived lack of contrition for past war crimes.
Koizumi's victory came after his extraordinary makeover of the Liberal Democratic Party, a traditional and nationalistic party that has ruled Japan for most of the post-World War II era.
Last month, Koizumi, 63, known as "Lion Heart," purged the party of hard-liners who had opposed his reform campaign. At the same time, he brought in women and younger candidates who backed his agenda for change, creating dazzling political theater as he pitted his so-called "assassin candidates" against the ousted old guard.
"I have destroyed the old LDP," a victorious Koizumi told reporters Sunday night. "It has become reborn as a new party."
Local journalism is essential.
Give directly to The Spokesman-Review's Northwest Passages community forums series -- which helps to offset the costs of several reporter and editor positions at the newspaper -- by using the easy options below. Gifts processed in this system are not tax deductible, but are predominately used to help meet the local financial requirements needed to receive national matching-grant funds.
Subscribe now to get breaking news alerts in your email inbox
Get breaking news delivered to your inbox as it happens.
---