News > Features
Playing with pain
Mon., Sept. 12, 2005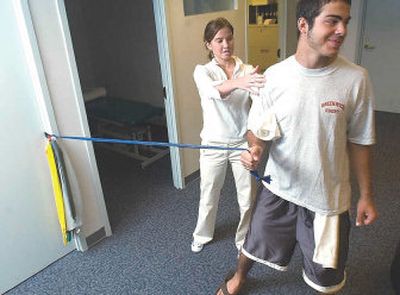 Frank Gianchetta was a defensive back for the Greenwich High School football team in Connecticut last fall when he tore the anterior labrum in his right shoulder.
He consulted an orthopedist, who took an MRI and recommended immediate surgery.
Gianchetta, 17, chose to finish the season.
"I thought (the pain) was just something I could handle," he said. "I would have it wrapped during games. I thought something could be wrong but I didn't want it to end my season or rugby (in the spring)."
Gianchetta's rugby plans were affected anyway when he dislocated the same shoulder later in the school year. He landed at the office of Paul Sethi, an orthopedic surgeon and sports medicine specialist with Orthopaedic & Neurosurgery Specialists in Greenwich.
Sethi took note of Gianchetta's strong desire to play and the fact that sitting out the season would deprive him of a chance to try out for USA Rugby's national under-19 team, and he told Gianchetta that he could play as long as he also continued to rehabilitate and strengthen his shoulder. Sethi also offered the teenager a warning: he could sustain further damage if he dislocated his shoulder.
Gianchetta trained that season as he normally would, participating in up to six practices a week for up to three hours a day. "I would work out every day another two hours, mostly weight-training," he says.
And he dislocated his shoulder twice before the rugby season ended.
His arm now in a sling, Gianchetta is recovering from a June 30 surgery, diligently attending to his rehabilitation schedule in anticipation of December tryouts.
That Gianchetta pushes himself as hard as he does is not uncommon, Sethi says, and it points to a growing trend in orthopedic intervention that until recently was the province of weekend-warrior, professional and college-level athletes.
"I'd say I do more than 300 surgeries a year, but at least half are on kids under 21," he says.
Faycal Rhazali, director of tennis at Kings Highway Tennis Club in Darien, Conn., says the rise in injury could be attributed to the excitement behind professional sports and its reigning stars.
Who, he asks, doesn't dream of victory and glory on the field or court?
And those dreams, Sethi says, are supported by a culture that strongly endorses pushing through pain.
"The perception among parents and coaches is that without the hard training, you will fall behind (other competitors)," says Sethi, a former assistant team physician for the Los Angeles Dodgers, the Lakers and the University of Southern California football team.
Many may wonder what the problem is. At a time when everyone is talking about childhood obesity, a healthy interest in sport seems to be a good thing, even with the possible risk of injury.
Sethi, a former college football player and wrestler, would agree, but he cautions that children who actively participate in sports, and in some cases appear to train like pros, should be carefully monitored so an acute traumatic injury can be treated sensibly and an overuse injury can be prevented altogether.
Eric Williams is an 18-year-old star pitcher, most recently for Stamford's Westhill High School varsity baseball and summer All-Star Leagues. In the spring 2004, a ligament in his right elbow suddenly gave out.
That June, Williams had surgery to repair the ulnar collateral ligament. The surgery, commonly known as Tommy John surgery, named after the former Dodgers pitcher who was the first to have the procedure, requires the ligament be replaced with a tendon from another part of the body, usually the forearm, hamstring or wrist.
Today, Williams is about to enroll at the University of Connecticut at Avery Point and is fully recovered. He played baseball last spring with a brace.
Williams' injury is classified among orthopedists as an overuse injury, also a rising phenomenon among younger athletes.
"Overuse injuries are the result of repetitive activity in what we call repetitive microtrauma, such as repetitive overhand throwing or running on the ground," says Lyle Micheli, director of the sports medicine division at Children's Hospital in Boston and co-author with Mark Jenkins of the "Sports Medicine Bible for Young Athletes."
The common denominator is usually overtraining, usually too much over too short a time.
Part of what constitutes overtraining, Sethi says, is an emphasis on one sport that necessitates repeated motion and stress on specific parts of the body.
"It's related to specializing," says Brad Wallace, wrestling coach for Greenwich High and a math teacher at Central Middle School in Greenwich. "Kids participate in travel teams and the year-round commitments that go with that."
Sethi, 34, said that when he was growing up, it was common for kids to play three sports, one for each season. "Now you see all these kids playing and training for one sport and starting at a much younger age," he said.
Complicating matters further is the particular susceptibility children have to overuse injuries when compared to older athletes.
"The body of a child is not designed to take repetitive stress," Sethi says. "Kids' bodies are not small-adult bodies."
Adds Micheli: "The ends of their joints are growing. They are softer and more vulnerable to injury. They have growth plates that can be injured and they, often in the course of development, are going through periods of muscle imbalance, particularly during growth spurts, which can increase the chance of overuse injury."
So how can injury be avoided?
Play It Safe is a sports safety campaign by the American Academy of Orthopaedic Surgeons and Pediatric Orthopaedic Society of North America. It advocates that children be in proper physical condition to play a sport, should know and abide by the rules of a sport, wear appropriate gear, know how to use athletic equipment, warm up before playing and always avoid playing when very tired or in pain.
According to Sethi, young athletes should also follow a preseason conditioning regimen that focuses on core body strength and a season regimen that supports the sport, uses correct technique and schedules rest periods to avoid overuse.
"Most important is watching the rate of progression of training and the total volume of training," Micheli says. "We have what we call the 10 percent rule, which is the child should not increase their volume of training more than 10 percent a week. So if the child runs 20 minutes, three times per week, they can probably safely run 22 minutes, three times per week, the following week." But they still must make sure that the training surface is not too hard and that they are wearing proper shoes, have proper coaching and training and use proper technique.
Local journalism is essential.
Give directly to The Spokesman-Review's Northwest Passages community forums series -- which helps to offset the costs of several reporter and editor positions at the newspaper -- by using the easy options below. Gifts processed in this system are not tax deductible, but are predominately used to help meet the local financial requirements needed to receive national matching-grant funds.
Subscribe now to get breaking news alerts in your email inbox
Get breaking news delivered to your inbox as it happens.
---