Sports
Schenkel dies after long battle with emphysema
Mon., Sept. 12, 2005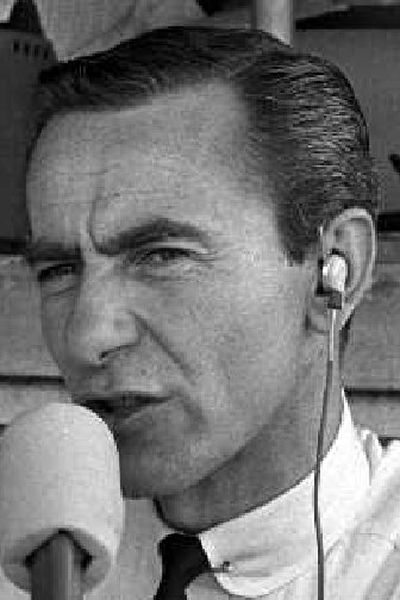 INDIANAPOLIS – Sportscaster Chris Schenkel, whose easygoing baritone won over fans during a more than six-decade broadcasting career in which he covered everything from bowling to the Olympics, died Sunday following a long battle with emphysema. He was 82.
Schenkel's wife, Fran, said she and the couple's two sons were at her husband's side when he passed away early Sunday at Lutheran Hospital in Fort Wayne, Ind., where he had been hospitalized for two weeks after undergoing surgery for a bleeding ulcer.
"He was a very, very sincere, loving man who loved what he did," said Fran Schenkel, noting that they celebrated their 50th wedding anniversary in January.
Schenkel's radio and television career included virtually every major sports competition and several pioneering broadcasts.
He was the first to cover the Masters Tournament on television, in 1956; the first to call a college football game coast to coast on ABC; and the first to serve as live sports anchor from the Olympics, in Mexico City in 1968.
His career highlights included calling gymnast Nadia Comaneci's perfect 10 at the 1976 Olympics in Montreal, and calling the 1958 NFL championship game between the Baltimore Colts and New York Giants.
He was also the longtime voice of the Professional Bowlers Association, entertaining a generation of viewers with his Saturday afternoon broadcasts.
George Bodenheimer, the president of ESPN, Inc. and ABC Sports, called Schenkel a pioneering sportscaster and a "true gentleman."
"Everyone at ABC and ESPN mourns the loss of a great friend and colleague. Chris was a pioneer in sports television and was the pre-eminent play-by-play announcer to a generation of sports fans," Bodenheimer said in a statement. "More importantly, he was a true gentleman, beloved by all. He treated everyone with respect and friendship."
Schenkel was born Aug. 21, 1923, on his parents' farm in Bippus, Ind., one of six children. His parents, second generation German immigrants, managed a grain and feed business.
He attended Purdue University and fought in the Philippines during World War II and later in Korea, as an infantry platoon leader.
Local journalism is essential.
Give directly to The Spokesman-Review's Northwest Passages community forums series -- which helps to offset the costs of several reporter and editor positions at the newspaper -- by using the easy options below. Gifts processed in this system are not tax deductible, but are predominately used to help meet the local financial requirements needed to receive national matching-grant funds.
Subscribe to the sports newsletter
Get the day's top sports headlines and breaking news delivered to your inbox by subscribing here.
---