News > Features
So does this mean we can call Kathy Bates a screen siren?
Mon., Sept. 12, 2005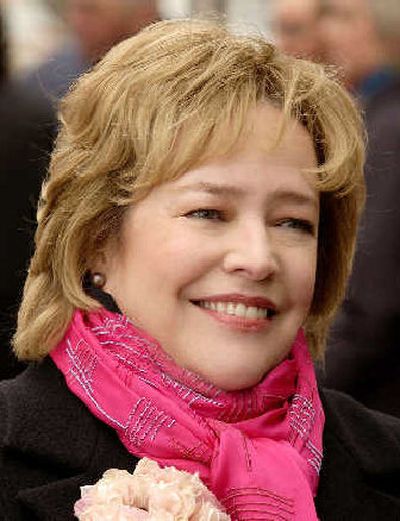 Kathy Bates fell hard for "Ambulance Girl."
"I just didn't want to let anyone else get their mitts on it," says the Oscar-winning actress, who is both star and director of the Lifetime movie premiering tonight (9 p.m., cable channel 51 in Spokane, 30 in Coeur d'Alene).
"I knew what I wanted to do with it," Bates says. "I didn't want anyone else telling me what to do."
Actually, "Ambulance Girl" is no girl. She's a mature woman, a real person: Jane Stern, who with her husband, Michael, chronicles American culture through books, radio and television.
The film is an adaptation of Stern's 2003 memoir about how becoming a volunteer emergency medical technician gave her the confidence to salvage her marriage and emotional health.
Trevor Walton, Lifetime's vice president of original movies, says Bates' casting was ideal because she "knows how to produce pathos and humor all in the same breath. It's a really sort of compelling, sad, difficult tale, but it's also imbued with humor."
When Bates said she'd like to direct as well, Walton had no hesitation.
"What informs her, both as an actress and as a director, is that she's a keen observer of the human condition," he says.
Bates is no newcomer to directing. She earned an Emmy nomination for the A&E movie "Dash and Lilly," and an episode of HBO's "Six Feet Under" brought her a Directors Guild nomination.
She's also helmed episodes of "NYPD Blue" and "Everwood."
But "Ambulance Girl" was the first time she was both director and star – a challenging situation that Bates calls "the whole kit and caboodle."
The first few days on the set were "sort of my trial by fire," Bates says. "Once you've set the scene, and you know the way you want to shoot it, and how you want to play it (as a director), you've got to get into the scene (as an actor) and forget everything else."
Bates, who is divorced, relates well to Stern's emotional escape from gloom.
"I have been depressed on and off in my lifetime, and not enjoyed the things that life can bring," she says. "I struggle with that."
At 57, she's reached what she calls "the young part of being old." She finds herself a bit wistful about not having had children and pondering the future more.
"What have I done with my life so far and what am I going to do now?" she asks.
"Do I really want to direct a feature? Do I want to start a production company? Do I want to do something completely different? Would I love to retire and move to Europe and try to write?"
Perhaps – but not before she attends Sunday's Primetime Emmy Awards.
She's nominated for her role as the physiotherapist in "Warm Springs," the HBO movie about Franklin Roosevelt's battle with polio.
The birthday bunch
Actor Dickie Moore ("Our Gang" films) is 80. Actor Ian Holm ("Chariots of Fire") is 74. Country singer George Jones is 74. Actress Linda Gray is 65. Singer Maria Muldaur is 62. Actor Joe Pantoliano is 54. Actor Peter Scolari is 51. Actress Rachel Ward is 48. Actress Amy Yasbeck ("Wings," "Life on a Stick") is 43. Actor Darren E. Burrows ("Northern Exposure") is 39. Singer Ben Folds (Ben Folds Five) is 39. Singer Liam Gallagher (Oasis) is 33. Actor Paul Walker ("The Fast and the Furious") is 32. Actor Benjamin McKenzie ("The O.C.") is 27. Singer Ruben Studdard is 27.
Local journalism is essential.
Give directly to The Spokesman-Review's Northwest Passages community forums series -- which helps to offset the costs of several reporter and editor positions at the newspaper -- by using the easy options below. Gifts processed in this system are not tax deductible, but are predominately used to help meet the local financial requirements needed to receive national matching-grant funds.
Subscribe now to get breaking news alerts in your email inbox
Get breaking news delivered to your inbox as it happens.
---