News > Business
Microsoft has new Office
Wed., Sept. 14, 2005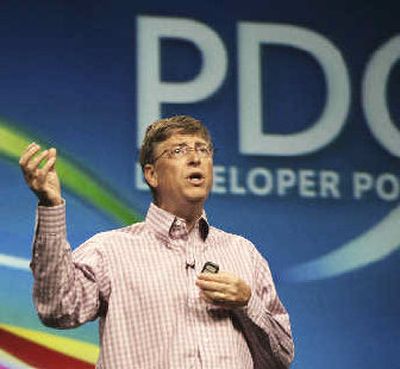 SEATTLE — The latest version of Microsoft Corp.'s Office software will try to anticipate and automatically offer the tools a user is most likely to want during a specific task, in one of several enhancements designed to help the company best one of its biggest competitors: itself.
For years, Microsoft has struggled to give users a good reason to update from previous versions of Office, the software suite that includes Word, PowerPoint, Outlook and Excel. With Office 12, due out in the second half of 2006, Microsoft is hoping to entice users with a new system that automatically pops up what it thinks are the most relevant commands based on whether the user appears to be typing a list, editing someone else's work or performing some other job.
Microsoft Chairman Bill Gates was scheduled to unveil an early prototype of the new Office software at a conference for software developers Tuesday in Los Angeles.
Charles Fitzgerald, general manager of Microsoft's Platform Strategy Group, called it the "biggest release of Office since 1995."
The stakes are high because Office is a major cash cow for Microsoft, even as it ventures further into other areas such as Internet search and video games. For Microsoft's fiscal year ended June 30, the unit that includes Office had operating income of nearly $8 billion, on revenue of $11 billion. The company's overall revenue was $40 billion.
Fitzgerald said the company developed the automated system by tracking — with permission — every keystroke of some Office users. The idea is part of an industry-wide trend of trying to personalize technology based on user habits. For example, Microsoft rival Google Inc. recently updated its desktop search capability to present relevant information based on monitoring of the user's Web-surfing habits.
With Office 12, Microsoft also plans to focus more on how companies can use Office over servers. For example, Fitzgerald said a new function could route a document to three successive people, allowing each person to automatically receive the most recently edited version when the last person was finished.
Local journalism is essential.
Give directly to The Spokesman-Review's Northwest Passages community forums series -- which helps to offset the costs of several reporter and editor positions at the newspaper -- by using the easy options below. Gifts processed in this system are not tax deductible, but are predominately used to help meet the local financial requirements needed to receive national matching-grant funds.
Subscribe now to get breaking news alerts in your email inbox
Get breaking news delivered to your inbox as it happens.
---