News > Business
Wind or water?
Fri., Sept. 16, 2005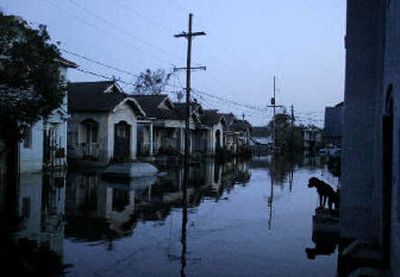 SLIDELL, La. — Carol Hess hoped she had shed her last tear over the ruins of her four-bedroom house in Slidell. But an hour after the adjuster from State Farm came to visit her hurricane-ravaged property this week, Hess was crying again.
Though Hurricane Katrina's storm surge dumped the contents of two neighboring townhouses into her back yard, crushing the back of her garage and driving a mountain of debris into her living room, the adjuster told Hess virtually none of the damage would be covered by her homeowner's policy.
His explanation: The debris came by water, not wind. And that means Hess' claim will be filed through her flood insurance policy.
The debate about whether claims should be filed under homeowners or flood insurance is one that several hundred thousand policyholders are coming up against as they try to figure out how to pay for Katrina-related property damage.
"It's not a black-and-white answer because each claim is different," said Bill Mellander of the Allstate Natural Catastrophe team in Northbrook, Ill.
Homeowners policies provide compensation for damage resulting from high winds, but do not cover flood damage. The only water losses covered under a homeowners policy are those that occur after a windstorm has damaged a building, such as when water pours into the structure because a fallen tree created a hole in the roof.
Flood damage is covered by federal flood insurance, which is a type of coverage held by a fraction of homeowners. And even for those who have it, flood insurance only covers damages up to $250,000.
As a result, many homeowners would prefer to see their claims handled through homeowners insurance. Some policyholders are arguing that wind from the storm caused the levee breach that flooded the city, and that any water damage should be covered under a traditional storm policy.
"In this event, the big (question) will be: What's wind and what's water?" said Bob Hunter, director of insurance for the Consumer Federation of America.
Hunter said it will be hard to make a case that wind led to the flooding. "I think that argument may have a class-action lawsuit to follow it," he said.
Some Louisiana state legislators have said they would like the federal government to create a special appropriation to cover the difference between flood insurance and homeowner's policy payouts.
Carol Hess and her husband, Bobby, have paid $364 a year for their flood policy. State Farm adjuster Steve Evans, who also works as an adjuster on behalf of the National Flood Insurance Program, said this week that the Hesses will be able to recover a maximum of $155,800 for damage to their home and its contents under the flood policy. If the adjuster had blamed the damage on the hurricane, the Hesses could have gotten as much as $277,918, according to their homeowners' policy, which cost $1,640 annually.
The news blew them both away.
"My house is demolished and you're telling me it was a flood," complained Bobby Hess, 58, a retired air-conditioning mechanic. "But water didn't pick up this roof and dump it in my back yard. This furniture didn't come by water. It was pushed here by the wind. It makes no sense to me. I am totally disgusted with the whole thing."
Carol Hess couldn't hide her disappointment: "I paid $1,600 a year for nothing."
This scene will likely be replayed countless times in the coming months, as insurance adjusters spread out across southeastern Louisiana, where most of the damage from Katrina was caused by water, not wind.
While representatives of various insurance companies promise that each claim will be handled on an individual basis, they also note that the rules of the insurance business haven't changed in Katrina's wake. That means any damage caused to a home by rising water is covered by flood insurance, not a homeowner's policy.
"A flood is defined as rising water, and it doesn't matter why the water is rising," said Jeff Albright, chief executive of the Independent Agents and Brokers of Louisiana. "If it rains faster than it can be pumped away, that's a flood. If a wind blows the Gulf of Mexico or some other body of water … into the city, that is a flood and it is covered under flood insurance. Rising waters, by definition, are excluded from a homeowners policy."
For insurers, the distinction could save them billions of dollars. Any losses from flood insurance are covered by the federal government, and with damage from Katrina now estimated at $200 billion, it's easy to see why adjusters aren't anxious to make exceptions.
In many parts of New Orleans, most of which lies below sea level, flood insurance is required by mortgage companies. But according to the Insurance Information Institute, about half of New Orleans residents still don't have flood insurance.
Local journalism is essential.
Give directly to The Spokesman-Review's Northwest Passages community forums series -- which helps to offset the costs of several reporter and editor positions at the newspaper -- by using the easy options below. Gifts processed in this system are not tax deductible, but are predominately used to help meet the local financial requirements needed to receive national matching-grant funds.
Subscribe now to get breaking news alerts in your email inbox
Get breaking news delivered to your inbox as it happens.
---