News > Features
Fascination with trailers started early for artist
Sat., Sept. 17, 2005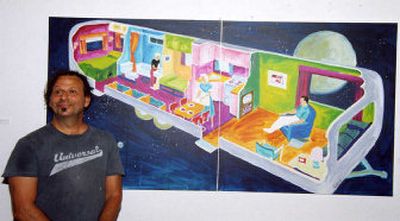 Charlie Schmidt is obsessed with trailers.
"I remember when I was a kid living out in Spokane Valley," says Schmidt. "I would bicycle over to the used trailer lots on Sprague Avenue and sneak into the long skinny trailers parked way in the back."
In those days they never locked the trailers, says the artist-comedian-musician-philosopher.
"I'd walk through them, climb into one of the top bunk beds and look out a little tiny window up there," he recalls. "There was always a certain damp, musty smell. It was like my own private clubhouse. I just loved it."
Long after the old sales lots were replaced with strip malls, trailers remained an important part of Schmidt's creative life.
"I have so many weird trailer plans, drawings and schemes," he says. "I can't explain the fascination."
A few of Schmidt's trailer-influenced pieces are in his art show, "Taking the Plunge," at the Kolva Sullivan Gallery through September (see details below).
Back in 1987, Charlie starred in "Only a Buck," a local low-low-budget, independent film directed by Gerry Cook.
Four of the guys who worked on the movie drove their 'Brickmobile' on a promotional tour from Spokane to cities including Chicago, New York and Los Angeles.
Schmidt custom-designed the exterior of a 1980s Class A motor home to make it look like a brick house on wheels, complete with chimney.
Another major encounter with his RV-themed life came when Charlie joined Doug Clark's band, "The Trailer Park Girls," in the late '90s as its drummer.
Then, about five years ago Schmidt purchased his first small travel trailer for about $400 – a 1967 12-foot Scotty Ferro.
The rig was featured prominently in one of the Trailer Park Girls' music videos and often was used as the band's backstage Green Room.
"We took it to gigs," says Charlie, "but we soon found out you can't put a lot of equipment in there before it starts looking like a low rider."
Although the Scotty has been sold, Charlie reflects fondly on the three years that he owned it.
"Many days after school," he says, "my daughter, Sydney, and I would go out there and just sit in it. It felt good."
Pausing, he says: "One thing that never goes away is wanting a trailer. I just want to have one."
Nose dance
In the early '90s, Schmidt became a familiar face on European television for ads pitching a popular candy bar. By pressing his ample and flexible nose against an invisible sheet of Plexiglas, and moving it in such a way, his nose appears to be dancing in time to music.
So funny is the skit that he's performed it on television shows in Tokyo, Madrid, Paris, Buenos Aires, Santiago and Los Angeles.
Now, more than a dozen years since his first nose dance, it is still in demand.
On Wednesday, he is scheduled to return for his third appearance on the "Tonight Show."
"This time I am part of a skit with Ed Asner who starred in the Mary Tyler Moore TV show," says Schmidt.
Every few months the "Tonight Show" does a skit called "Can You Impress Ed Asner."
"Ed plays his usual cranky self in a tux, judging talent," says Schmidt. "I will be doing the paranormal nose routine to the theme song from Mary Tyler Moore Show."
More information
" To learn more about Charlie Schmidt's adventures, go to his Web site at www.charlieschmidt.com.
" His exhibit, "Taking the Plunge," is up in the Kolva Sullivan Gallery, 115 S. Adams St., through September. The gallery is open Thursday and Friday from noon to 5 p.m. and Saturday from noon to four; or by appointment. Call Jim Kolva at 458-5517.
Advice for the Alaska-bound
Marcy Wise of Sandpoint sent in an e-mail with a few recommendations for Mark Johnson, the pop-up camper owner featured last week in Wheel Life.
Johnson mentioned that one of his future trips would be to take "the vehicle ferry up to Alaska and drive back."
Marcy offers a couple of 'Wise' suggestions.
"I was raised in Fairbanks in the 50's and 60's and have traveled to Alaska about 20 times every way you can, except motorcycle and bicycle," she says.
"I suggest that Mark Johnson drive up the highway, then come back on the Alaska State Ferry. Three reasons for this: (A) Driving up the highway gives you an increasing sense of wilderness and wonder as you go farther north. (B) You get to adjust gradually to the increasing (or decreasing if you go in winter) daylight. (C) By the time you get to the ferry, you are ready to let someone else drive.
"Whichever way you take the ferry," says Wise, "go to, or from, Prince Rupert (British Columbia) not Bellingham, especially if your dog goes along. The 38-hour trip to Bellingham from Ketchikan is very hard on dogs, even with a few car deck calls during the long voyages.
"Coast Guard regulations prohibit passengers unescorted by a ferry employee on the car deck when the ferry is under way."
"If time permits, book your ferry tickets so you can stop over in two or three southeast ports. You don't get to see much of the towns without stopovers.
"Buy the book 'Alaska Milepost'; it comes out new every March. I get mine early and use it to plan every trip. It is also invaluable on the trip, giving you information on all routes in Alaska and Western Canada, and access routes from Montana and Seattle."
Wise then went on to describe her family's RV.
"It is a Tiger conversion of a Chevy Astro by Provan Industries, now in South Carolina. It was built in 1990. It is our second Tiger," she writes.
"We bought our first in 1987 in Colorado and put 240,000 miles on it. It went to Alaska once and Nova Scotia once; and many of the West and Northeast lower 48 states."
"We bought this one in May from a couple in Spokane because we were planning another trip to Alaska and thought our old one should be retired for local trips only."
"We love the Tiger –a mere 16 feet long with two beds, stove, sink, shower, toilet and refrigerator. We have traveled in it for almost six weeks and about 6,000 miles (not counting ferry miles) this summer with two dogs and two people, and it has been great."
Wheel question
Do you have a rig you love and RVing experiences you'd like to share? Write to Wheel Life, Spokesman Review, 999 W. Riverside Ave., Spokane, WA 99201.
Local journalism is essential.
Give directly to The Spokesman-Review's Northwest Passages community forums series -- which helps to offset the costs of several reporter and editor positions at the newspaper -- by using the easy options below. Gifts processed in this system are not tax deductible, but are predominately used to help meet the local financial requirements needed to receive national matching-grant funds.
Subscribe now to get breaking news alerts in your email inbox
Get breaking news delivered to your inbox as it happens.
---