News > Idaho
Meet your neighbor
Sat., Sept. 17, 2005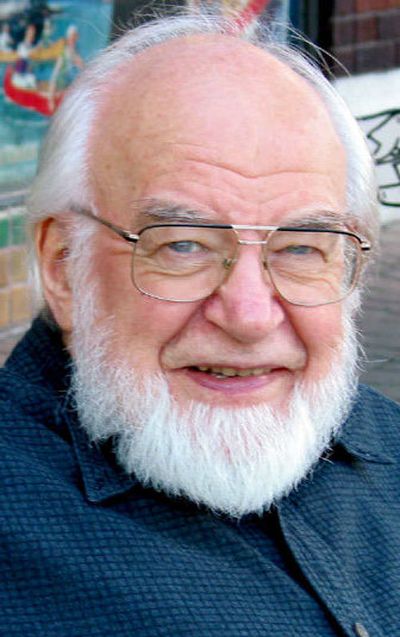 Name: Ashley Day
Age: 76
Hometown: Coeur d'Alene since 1980. He and his family moved here from Devon, England. He came here to accept the position of pastor at Coeur d'Alene Bible Church, where he was pastor for 23 years.
Occupation now: He has a radio ministry, The Bible Says, which can be heard on KSPO 106.5 FM at 9:30 a.m. Sundays.
Family: His wife, Edna Day; five children, from oldest to youngest, Jennifer, Alyson, Nicola, Jillian and Andrew – the only boy – "the caboose." Andrew is minister of music and arts at Coeur d'Alene Bible Church, and Alyson runs Discovery Day Care, downtown.
He and his wife also have five grandchildren. Their grandson, Ashley, has been in Iraq for nine months with the Marine Corps. The remaining Day children and grandchildren are in the United States, with Nicola also in Coeur d'Alene.
Hobbies: Writing. Ashley has written three books; one on Romans, one on First Corinthians, another titled "What we Believe and Why," and "Revelation" is at the publishers now. He also enjoys carving decoys and gardening.
Musical Preference: Classical.
What he enjoys eating: The things he shouldn't eat – carbs!
Favorite authors: Alan Redpath and John Hunter, both English writers.
What he likes best about North Idaho: "It's very beautiful and so free of what the rest of the country seems to be plagued with." He feels we are blessed to be here; that we constantly see things going on that don't happen here.
Local journalism is essential.
Give directly to The Spokesman-Review's Northwest Passages community forums series -- which helps to offset the costs of several reporter and editor positions at the newspaper -- by using the easy options below. Gifts processed in this system are not tax deductible, but are predominately used to help meet the local financial requirements needed to receive national matching-grant funds.
Subscribe now to get breaking news alerts in your email inbox
Get breaking news delivered to your inbox as it happens.
---