Sports
Not on the same note
Sat., Sept. 17, 2005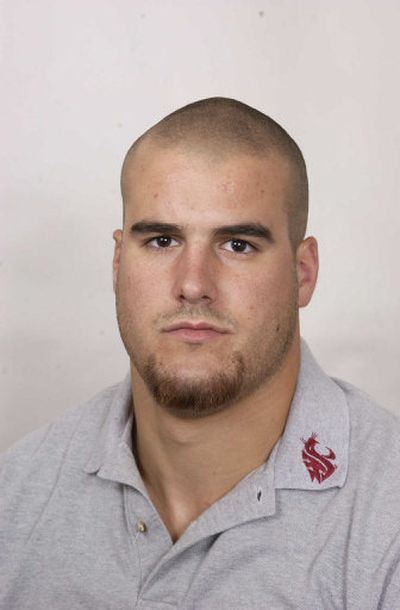 Not that it's ever a problem to get defensive ends Adam Braidwood and Mkristo Bruce talking, but given the Seattle backdrop for today's Washington State-Grambling State game and the presence of one of the nation's most famous marching bands, it seems appropriate to get their take on the world of music.
AB: I'm a country-rock guy myself. I didn't start listening to country until Will (Derting) and I started hanging out. Then, every time we got in the car … and eventually it was like, 'All right, I can handle country.' My brother listens to it and a bunch of people (back home in Canada) listen to it. But I never really got into it. I was in an urban area so there wasn't a lot of country. It's not bad. I'm not going to be going to too many concerts any time soon.
MB: I went to a Blink 182 concert. Some hot chicks were there.
AB: Usually if it's got a guitar I'll listen to it. I like the old-school stuff like Hank Williams, Johnny Cash.
MB: I like the stuff that's so obnoxiously loud in your car you can hear it down the street. I've got the big speakers in the back, so I listen to that stuff with a bass.
AB: I used to listen to a lot of heavy metal but it started stressing me out.
MB: I don't have anything to do with that.
AB: I couldn't listen to it any more. I'd be too hyped all the time. I just wanted to go out and beat everybody up. When I was driving my car, I'd end up going way too fast.
MB: When I hear heavy metal, I just want to hurt somebody. It's bad music. It just makes you violent.
S-R: If you guys could stick around for the Grambling band's performance at the game, would you do it?
MB: I want to, but Coach told me no. He said it's a business trip, get in there and get out.
AB: I'd be the first one on the bus. I'm not into the whole marching band thing.
MB: I've always wanted to see the Grambling band, go down to the (Bayou) Classic. I really want to see them, so maybe he will let me. I'll go down and dance with them a little bit.
S-R: Think you could hang with them?
MB: Could I? That's what I do.
Local journalism is essential.
Give directly to The Spokesman-Review's Northwest Passages community forums series -- which helps to offset the costs of several reporter and editor positions at the newspaper -- by using the easy options below. Gifts processed in this system are not tax deductible, but are predominately used to help meet the local financial requirements needed to receive national matching-grant funds.
Subscribe to the sports newsletter
Get the day's top sports headlines and breaking news delivered to your inbox by subscribing here.
---