News > Features
Funny felines
Mon., Sept. 19, 2005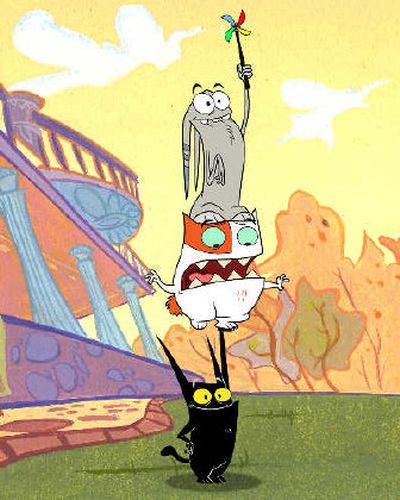 Children everywhere recognize his voice. His face they never see.
Rob Paulsen says there's a good reason for that.
"I've got a face for voice-over," quips Paulsen, the sonic force behind numerous modern-day cartoon voices including Pinky the brilliant lab mouse in the quirky '90s cartoon show "Pinky and the Brain."
"I'm one of a million average-looking white guys with SAG (Screen Actors Guild) cards working here in L.A.," continues Paulsen, who switches effortlessly from voice to voice to voice during an interview.
"Not that there is anything wrong with my face," he adds after a moment's contemplation. "I've had it for 49 years, and I'm not going to give it back now. But there are some incredibly handsome people working here."
Ah, but can they sound like a kindly cat with a Scottish burr who befriends the girl next door?
That's where Paulsen aces them. And that's why he's playing Gordon the cat, who isn't really from Scotland but sounds like he is, in Nickelodeon's new animated series "Catscratch."
Also including a pair of brothers, Mr. Blik and Waffle (voiced by Wayne Knight of "Toy Story 2" and Kevin McDonald of "Lilo and Stitch"), the trio is more reminiscent of the Three Stooges than cats – which is no accident.
"I'm a huge Three Stooges fan," says show creator Doug Tennapel, who also happened to be the owner of cats named Mr. Blik, Waffle and Gordon when he began developing the series.
"Waffle got eaten by a coyote, and Gordon ran away," he recalls sadly. "Blik is all that's left."
That stands to reason: Blik, although pompous and self-important, is also the show's smart cat. It's a role made for Knight, who has played numerous smart but conniving types both in live-action and animated shows. Perhaps most notable among them was Newman on "Seinfeld."
"The difference is that Blik is very confident," Knight notes. "Newman, for all of his bluster, was pretty insecure. And, actually, nobody can kick Blik out of their apartment. He owns the house. He's a very wealthy cat."
The "Catscratch" trio was born under the couch of a home owned by an eccentric who died and left them her fortune, which they used to acquire a mansion and hire a butler.
With their newfound wealth, Blik is hoping to climb the ladder of high society, Gordon wants to do good, and Waffle is the childlike innocent.
"Mr. Blik is Moe, Waffle is more like Curly, and Gordon would be the Scottish stooge – if there was a Scottish stooge," jokes McDonald.
No one knows exactly why Gordon developed his Scottish burr.
"Initially, I was doing this Eastern European, Maria Ouspenskaya accent," says Paulsen, referring to the diminutive Russian actress who developed a cult following playing the mysterious old gypsy woman in 1940s "Wolf Man" movies.
"They said, 'That's interesting. You got anything else?' " he recalls with a chuckle.
Out popped Scotland.
While Paulsen is a man of a thousand voices, McDonald says he has only one voice other than his own – a high-pitched squeak that's perfectly suited for the goodhearted, dim-bulb Waffle.
"We need a high-pitched childish guy. Send for Kevin McDonald," jokes the actor, who appeared in front of the cameras as part of the 1990s TV comedy team "The Kids in the Hall."
Although they may be the Three Stooges with fur, the trio's humor is not nearly as violent.
Rather than hitting one another with hammers or boards, they're more likely to wind up accidentally painting Mr. Blik green and getting snookered by conniving mice.
Local journalism is essential.
Give directly to The Spokesman-Review's Northwest Passages community forums series -- which helps to offset the costs of several reporter and editor positions at the newspaper -- by using the easy options below. Gifts processed in this system are not tax deductible, but are predominately used to help meet the local financial requirements needed to receive national matching-grant funds.
Subscribe to the Coronavirus newsletter
Get the day's latest Coronavirus news delivered to your inbox by subscribing to our newsletter.
---