News > Nation/World
Train speeding when it derailed
Mon., Sept. 19, 2005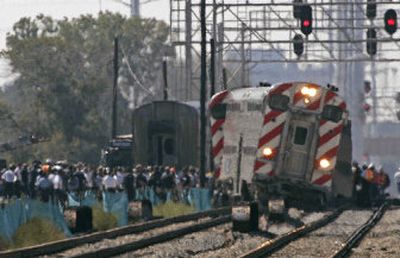 CHICAGO – A commuter train was going almost 60 mph above the speed limit just before it derailed, killing two people and injuring dozens of others, the acting chairman of the National Transportation Safety Board said Sunday.
Mark Rosenker said the Metra train was traveling at 69 mph and should not have been going faster than 10 mph when it switched tracks at a crossover just before jumping the tracks Saturday.
The speed information came from a preliminary reading of one of the train's three electronic data recorders, Rosenker said.
Investigators conducted a three-hour interview Sunday with the train's engineer. The 41-year-old man had been on the job for 45 days after completing Metra's six-month training, which included at least some training along the route where the derailment occurred. He also had worked for more than five years as a CSX Corp. freight train engineer.
The double-decker commuter train was headed into Chicago from Joliet on Saturday morning with 185 passengers and four crew members when its locomotive and five rail cars jumped the tracks about 5 miles south of downtown.
The train began to derail as it switched tracks, striking a steel bridge just beyond the crossover. Rosenker said that collision damaged at least one rail car and likely contributed to at least one of the fatalities.
Transportation officials also determined Sunday that train signals were working, meaning the engineer should have known he was approaching a crossover and should have had time to slow the train upon seeing the signals, even if he was traveling 69 mph, Rosenker said.
Extensive damage to the train's undercarriage has prevented investigators from examining its brakes, but it appears the brakes engaged as the train was switching tracks. It was unclear if the engineer applied the brakes or if they engaged automatically, Rosenker said.
The train engineer, three crew members and dispatchers were all tested for drugs and alcohol, which is standard procedure, Pardonnet said.
The NTSB planned today to examine radio transmissions from a control tower and interview a dispatcher and trainee who were working in the tower at the time of the accident.
The train's engineer is taking three days of paid leave for "trauma debriefing." Pardonnet said no decisions have been made about his future employment.
Local journalism is essential.
Give directly to The Spokesman-Review's Northwest Passages community forums series -- which helps to offset the costs of several reporter and editor positions at the newspaper -- by using the easy options below. Gifts processed in this system are not tax deductible, but are predominately used to help meet the local financial requirements needed to receive national matching-grant funds.
Subscribe to the Coronavirus newsletter
Get the day's latest Coronavirus news delivered to your inbox by subscribing to our newsletter.
---