Sports
Ring calls, Knox enters
Fri., Sept. 23, 2005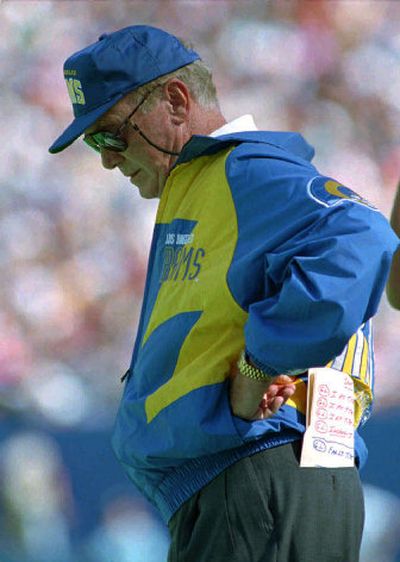 When it comes to Chuck Knox, everyone has a story. Everyone has a favorite speech, a favorite cliché, a favorite memory from the Seattle Seahawks' past.
For Dave Krieg, there is one lasting image.
"The steel jaw, the steely blue eyes," the former Seahawks quarterback said of his former coach. "All he'd have to do is look at you, and that was enough."
If that image isn't enough to remind fans of their franchise's most successful head coach, maybe the banner will. The Seahawks will add Knox to the Ring of Honor on Sunday, making him the ninth member of that elite group.
"I think it's long overdue," said former Seahawks receiver Steve Largent, who spent his final seven seasons playing for Knox.
Like anyone who has played under Knox, Largent has plenty of stories to tell. His most vivid involve the times when Knox would gather the players for the weekly Wednesday meeting and give them a few keys that would make the difference between winning and losing that Sunday.
"It's amazing, when I look back on my career, how often he was dead-on in his prediction of what we needed to do to be successful," Largent said by telephone Thursday.
Largent also looks back fondly on the 1984 regular season, which started with star running back Curt Warner blowing out his knee in the opener and ended with a franchise-record 12 victories.
"Chuck was a guy who absolutely wasn't going to allow that injury to derail his hopes for that year," Largent said.
Another member of the Seahawks' Ring of Honor, current quarterbacks coach Jim Zorn, fondly remembers Knox's competitive fire.
"He would always try to fight the other coach," Zorn said. "He would always claim that he could beat up the other coach if they got in a fight."
Not that opposing coaches were the only ones who drew Knox's ire. Zorn clearly remembers a 1983 loss to the Pittsburgh Steelers that included a third-down pass that landed a few yards in front of a wide-open Warner.
"(Knox) was frustrated with me anyway, throughout the early game, and that kind of iced it for him," Zorn said. "I looked to the sidelines, and I saw him, first of all, throw his play sheet. Then he took off his hat – it was a double – and threw his hat down. I just remember walking off to the furthest side of the field, to not go by him."
For all the stories about Knox's intensity, his former players also remember his football mind. There was the 1983 playoff game against Miami that Knox was so certain the Seahawks could win that he re-wrote his game plan on the Friday night flight to Florida. A flight delay caused the team to arrive at 5 a.m. the day before the game, and the players had just one practice to make the adjustments.
Seattle somehow pulled off a 27-20 upset victory and a ticket to the AFC title game.
"Sometimes if you give a coach too much time, he'll outthink himself," Krieg said. "This time, it worked."
Knox's success remains unparalleled in Seahawks history. He still leads the franchise in wins (80) and winning percentage (.559) and holds the distinction of coaching the team to all four of its playoff victories.
"There were a lot of big games," the 73-year-old Knox said during a visit to Seattle earlier this month. "But I think one of the biggest was one that will go down as one of the biggest upsets in playoff history. We were 15-point underdogs going into Miami and upset them. That was a big one."
Knox's run ended after the Seahawks went 7-9 in 1991. He was fired and replaced by Tom Flores, and the team went eight more years before returning to the postseason. The Seahawks are still looking for their first playoff win of the post-Knox era.
"I really like (head coach) Mike Holmgren, and I think he has the team on the right track," said Knox, who will attend Sunday's halftime ceremony after flying up from his Palm Springs, Calif., home. "I am not concerned about legacies. I am proud of the record. My assistant coaches and the players that I had, they deserve the credit."
Knox's ex-players aren't taking the compliment well. No matter how many years have passed, they'll always give Knox credit for bringing the Seahawks' franchise to places it had never been before.
"As time goes by, you learn to appreciate what that one particular person did," Krieg said. "When he came in, it gave us that winning attitude, that Pittsburgh Steel attitude that he brought with him.
"When we got Chuck Knox, it immediately became a team to be reckoned with."
When the Seahawks got Knox, the storytellers started getting plenty of fodder.
"I've got a ton of stories about Chuck Knox," Largent said. "Over the course of my playing career, there was nobody that I learned to respect and appreciate more than I did Chuck Knox."
Local journalism is essential.
Give directly to The Spokesman-Review's Northwest Passages community forums series -- which helps to offset the costs of several reporter and editor positions at the newspaper -- by using the easy options below. Gifts processed in this system are not tax deductible, but are predominately used to help meet the local financial requirements needed to receive national matching-grant funds.
Subscribe to the sports newsletter
Get the day's top sports headlines and breaking news delivered to your inbox by subscribing here.
---