Sports
Fighting for a job, Pena helps Tigers top M's
Mon., Sept. 26, 2005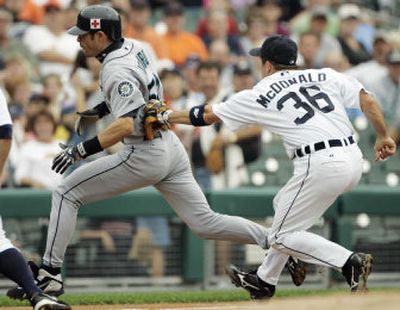 DETROIT — Carlos Pena knows he is fighting for his future with the Detroit Tigers.
Pena struck out twice in his first three at-bats, giving him 84 in just 237 at-bats this season. But he also made a spectacular leaping catch at first base, then hit the longest homer in Comerica Park history in Detroit's 8-1 win over the Seattle Mariners.
Pena is hitting .309 with 13 homers in 31 games since being recalled from Triple-A Toledo in mid-August.
"I don't even think about next year," he said. "I'm just going out there and playing baseball and whatever happens, happens."
Tigers manager Alan Trammell is going to give Pena every chance to work his way back into Detroit's future, a place that seemed out of reach when he was sent to Toledo at the end of May with a .179 batting average.
"He's been a different player since he has been back," Trammell said. "We want to evaluate him, so he'll get the bulk of the playing time down the stretch."
Pena's two-run homer in the eighth off Jeff Harris was estimated at 461 feet, landing on a concourse atop a 10-foot brick wall above the right-field scoreboard.
"As hitters, we definitely know when we hit a ball well," Pena said. "But then you see where it lands, and you say, 'Whoa.' That definitely felt good."
The previous record was 457 feet by Eric Munson on June 26, 2004, against Arizona. Comerica Park opened in 2000.
"I might be able to get up there with a driver," Brandon Inge said. "But that's about it. That was at least 500 feet. I don't care what they say."
The Tigers won their second straight, improving to 6-19 in September, while the Mariners finished 3-8 on their longest road trip of the season.
Mike Maroth (14-13) moved to 2-0 in his last four starts, giving up one run and four hits in seven innings.
Shigetoshi Hasegawa (1-3) allowed five runs in three innings of relief of Gil Meche, who was removed after two innings.
"Gil said he just didn't have anything with his arm," Seattle manager Mike Hargrove said. "There was no pain, he said he had nothing at all. It started in the first, but he didn't tell us until after the second."
Granderson scored when Chris Shelton hit into a double play in the first, but Seattle tied the game two innings later on an RBI double from Raul Ibanez.
The Tigers then took control with five runs off Hasegawa in the fifth.
"I think Shiggy just got tired," Hargrove said.
Craig Monroe and Marcus Thames started the inning with singles and moved up on Inge's sacrifice bunt.
Vance Wilson's single made it 2-1, and John McDonald followed with an RBI double.
Granderson's triple scored Wilson and McDonald, giving the Tigers a 5-1 lead, and Placido Polanco added a sacrifice fly.
Local journalism is essential.
Give directly to The Spokesman-Review's Northwest Passages community forums series -- which helps to offset the costs of several reporter and editor positions at the newspaper -- by using the easy options below. Gifts processed in this system are not tax deductible, but are predominately used to help meet the local financial requirements needed to receive national matching-grant funds.
Subscribe to the sports newsletter
Get the day's top sports headlines and breaking news delivered to your inbox by subscribing here.
---