Sports
Holmgren left in cold
Mon., Sept. 26, 2005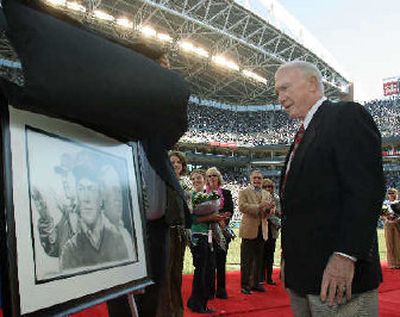 SEATTLE – Chuck Knox became the ninth member – and first coach – inducted into the Seahawks Ring of Honor on Sunday, and his legendary stone-faced toughness and dry humor elicited an affectionate story from current Seattle coach Mike Holmgren.
It dates back to Holmgren's days as head coach at Green Bay – home of the "frozen tundra" so loved by NFL announcers – and Knox's end-of-career stint in Los Angeles.
"It was 30 below or 20 below – just awful," Holmgren recalled, "although the sky was blue, beautiful. He's coaching the Rams and I'm coaching the Packers and I'm going to out-tough Chuck Knox that day. So I'm going to walk out to pre-game warmup with just a sweater on and shake his hand and show him that the cold doesn't bother me.
"Well, I get out there and they're all dressed in Michelin Man suits, with masks on – I couldn't even find him at first. As soon as I hit the field, I knew I'd made a mistake. It was one of those days it was so cold you couldn't even talk.
"I find him and he says, 'Mike,' and I couldn't say anything, couldn't respond. And he said, 'You're cold, aren't you?' "
Local journalism is essential.
Give directly to The Spokesman-Review's Northwest Passages community forums series -- which helps to offset the costs of several reporter and editor positions at the newspaper -- by using the easy options below. Gifts processed in this system are not tax deductible, but are predominately used to help meet the local financial requirements needed to receive national matching-grant funds.
Subscribe to the sports newsletter
Get the day's top sports headlines and breaking news delivered to your inbox by subscribing here.
---