Sports
Injury-plagued Patriots rally to beat Steelers
Mon., Sept. 26, 2005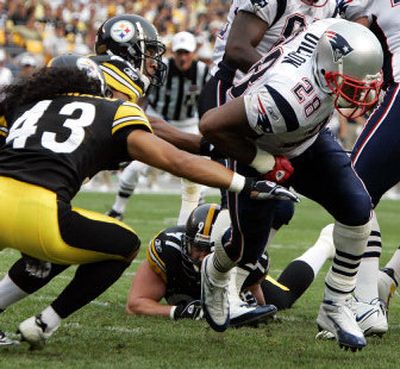 PITTSBURGH — All this seemed to be too much, even for a New England Patriots team that always wins big games. The injuries. A second-half deficit. A Pittsburgh Steelers team determined to show it is now the AFC's best team.
Not yet, they're not — not after giving Tom Brady and Adam Vinatieri a chance to beat them in the fourth quarter.
The Patriots, badly depleted by injuries, withstood the longest scoring pass play against them in 15 years and two turnovers inside the Pittsburgh 10 to rally in the fourth quarter behind Brady, beating the Steelers 23-20 Sunday on Vinatieri's 43-yard field goal with one second remaining.
"They showed us today why they're the champs," Steelers linebacker Larry Foote said.
It's also why the Patriots have won three of the past four Super Bowls.
New England, trailing for most of the game, led 20-13 late in the fourth quarter when a pass interference call on Chad Scott on a fourth-and-11 play set up Ben Roethlisberger's second scoring pass to Hines Ward, a 4-yarder that tied it with 1:21 remaining.
But that was too much time for Brady, the NFL's best late-in-the-game quarterback, and Vinatieri, its best clutch kicker.
"Our coaches always get us in situations where we can make plays," said David Givens, who made nine catches for 130 yards. "There always seems to be time for us to come back."
Brady, shouldering most of the offense, completed his last 12 passes and went 31-of-41 for 372 yards and Corey Dillon, all but absent the week before in a 27-17 loss at Carolina, scored twice on short runs to help end Pittsburgh's 16-game winning streak. Dillon's 7-yard run early in the fourth made it 17-13 — New England's first lead since 7-0 on Dillon's 4-yard run on its first possession.
The Patriots won in the same stadium where their own record 18-game regular season streak ended last season with a 34-20 loss on Oct. 31. They came back 2 1/2 months later and manhandled the Steelers 41-27 in the AFC championship game, the second time in four seasons their road to a Super Bowl title ran through Heinz Field.
Just as in that game, the Patriots (2-1) all but took away Pittsburgh's running game — Willie Parker, coming off consecutive 100-yard games, was held to 55 yards — and forced Roethlisberger to try and beat them.
Roethlisberger, who hasn't lost to any other team in 18 NFL starts, counting the postseason, wasn't much better than he was in that AFC title game loss, when he threw three interceptions. Under a heavy rush, he went 12-of-28 for 216 yards in his first loss in 16 regular-season starts, despite going against a badly depleted Patriots defense.
Already without three injured cornerbacks, including starter Tyrone Poole, the Patriots lost backup cornerback Duane Starks on the Steelers' first play from scrimmage, though he returned later. Then, after allowing an 85-yard Hines Ward TD reception, safety Rodney Harrison and left tackle Matt Light went down with leg injuries.
Harrison was driven to the team bus on a cart, and Light was seen with a cast on his right leg.
Patriots coach Bill Belichick said nothing when asked about the injuries, which forced the Patriots to patch together a secondary on almost every series and to call plays that kept the pressure off rookie offensive linemen Logan Mankins and Nick Kazur. They gave up two sacks early in the second half before tightening up.
"Because of all the changes they had to make, they had people all over the place," Roethlisberger said. "Guys were going down, they were moving people around. They had a guy who's normally a linebacker (Mike Vrabel) lining up at safety and playing deep."
Local journalism is essential.
Give directly to The Spokesman-Review's Northwest Passages community forums series -- which helps to offset the costs of several reporter and editor positions at the newspaper -- by using the easy options below. Gifts processed in this system are not tax deductible, but are predominately used to help meet the local financial requirements needed to receive national matching-grant funds.
Subscribe to the sports newsletter
Get the day's top sports headlines and breaking news delivered to your inbox by subscribing here.
---