Sports
Points race tightens up
Mon., Sept. 26, 2005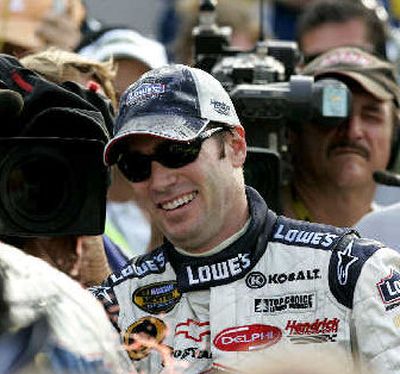 DOVER, Del. — The road at Dover International Speedway was paved with frustration for four of the 10 drivers in the Chase for the Nextel Cup.
While Jimmie Johnson was celebrating in victory lane after the MBNA RacePoints 400, Greg Biffle, Tony Stewart, Kurt Busch and Matt Kenseth were left to figure out what went wrong.
Johnson's victory on Sunday gave him a seven-point lead over Rusty Wallace with just eight races remaining on the Nextel Cup schedule. The remainder of the top 10 remains tight as six of the Chase contenders finished among the top 10 at Dover on Sunday.
Ryan Newman is third in the standings, just 12 points behind, while Mark Martin is fourth, 21 points out.
"It's going to be like that in a 10-race battle," said Johnson, of the closeness of the points race. "I truly believe that everybody is a threat. If anyone can make it clean and not finish 30th in one of these races, they'll probably win it."
Stewart held the top spot in points over the past seven races but fought an ill-handling car at Dover and struggled to an 18th-place finish. He slipped into a tie for fifth in the standings with Biffle, 23 points behind Johnson.
"Nobody saw this coming for sure," Stewart said. "This thing drove a lot better (Saturday), I don't know why it was so bad. None of us gave up all day."
Stewart tried to keep his team pumped up on the radio despite their troubles. He made up two laps by being the first car one-lap down when timely caution flags came out.
"I'm doing everything (crew chief) Greg Zipadelli has taught me the last seven years," Stewart said. "So I'm just trying to do my part. It was obvious it wasn't a good race car and obvious we don't know why."
Biffle salvaged a 13th-place finish on Sunday after he was forced to make an unscheduled pit stop for a flat left-rear tire with 100 laps left.
Matt Kenseth had the toughest day among the championship contenders. He had to pit for a flat left-rear tire on lap 217, which dropped him to 31st place, and then smacked the outside wall between the first and second turns with 32 laps remaining and finished 35th.
"There's a lot of racing to do," Kenseth said. "Eight races is a lot of racing to do."
Defending Nextel Cup champion Busch also ran into trouble. First, he had pitted before the other leaders three laps before the caution flag waved on lap 369 for Kenseth's crash, losing a lap.
Then he was forced to pit with 21 laps remaining when he had a right-front tire go flat. He was penalized by NASCAR for exceeding the pit road speed limit. He wound up with a 23rd-place finish and is 10th in the standings, 170 points behind.
"There's still an opportunity (for him) to get back in it," said Kyle Busch, Kurt's younger brother. "It's just all up to those guys to have a couple of bad runs all the way from 10th to 15th."
IRL
Scott Dixon gained the lead with 12 laps to go at Watkins Glen (N.Y.) International and won the inaugural IRL Indy Grand Prix for his first victory in 40 races.
It was the fourth win of Dixon's career and the 27th road course/street win for Ganassi Racing.
Danica Patrick finished 16th, but that was enough to give her rookie of the year honors over Tomas Enge.
Dan Wheldon secured the title when the race became official at the halfway point.
Formula One
Fernando Alonso became Formula One's youngest champion by finishing third in the Brazilian Grand Prix in Sao Paulo.
The 24-year-old Spaniard needed only a top-three finish in a race won by Juan Pablo Montoya of McLaren-Mercedes.
Kimi Raikkonen, the only other driver in contention for the championship, finished second. Raikkonen had to finish fifth or better and hope that Alonso didn't complete the race.
Local journalism is essential.
Give directly to The Spokesman-Review's Northwest Passages community forums series -- which helps to offset the costs of several reporter and editor positions at the newspaper -- by using the easy options below. Gifts processed in this system are not tax deductible, but are predominately used to help meet the local financial requirements needed to receive national matching-grant funds.
Subscribe to the sports newsletter
Get the day's top sports headlines and breaking news delivered to your inbox by subscribing here.
---