Sports
Second effort lifts Seahawks
Mon., Sept. 26, 2005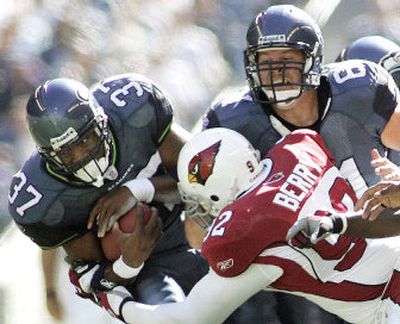 SEATTLE – The law of averages – and coach Mike Holmgren – insisted that the Seattle Seahawks would eventually score a point in the second half of a game this season.
"I was right on that one," Holmgren laughed Sunday.
Yes, the Seahawks – scoreless after halftime in the first two games of 2005 – poured it on with 27 on Sunday in a 37-12 smashing of NFC West rival Arizona at Qwest Field, an indication that they actually have it in them to finish games and not simply make them interesting, or harrowing.
In fact, they'd put two touchdowns on the board before former coach Chuck Knox – inducted into the club's Ring of Honor in a halftime ceremony – could find his way back to his seat.
And Holmgren liked the hurry-up approach as much as he liked the bottom line.
Nursing a 10-9 lead at intermission, the Seahawks (2-1) took just seven plays to cover 80 yards after the second half kickoff – with Shaun Alexander's 1-yard touchdown run being the only modest gain in the bunch.
Three plays later, Seattle safety Michael Boulware sacked Arizona backup quarterback Josh McCown and stripped him of the football – and another 1-yard touchdown by Alexander had the Seahawks on their way to a rout.
"We needed that bang-bang something to happen bang-bang like it did, when we got the turnovers and we were able to score," Holmgren said, "because we hadn't gotten those types of plays in the first two ball games. It's just too hard if you have to go that far all the time."
But the Seahawks showed they could go the distance, too – and even, for a team noted for its offensive finesse, inflict a little punishment.
It wasn't just that the Cardinals – winless in three games now – lost starting quarterback Kurt Warner to a groin injury late in the first half, a circumstance that surely figured into Arizona's offensive struggles in the second half. But three other Arizona starters – nose tackle Russell Davis (bicep) and cornerbacks David Macklin (hamstring) and Antel Rolle (knee) – also were knocked out mid-game, as was backup linebacker Eric Johnson.
Beaten up both on offense and defense, the Cardinals – who had actually outgained Seattle in the first half but had to settle for three Neil Rackers field goals, including kicks of 50 and 54 yards – managed just 91 yards after that, while giving up 277.
"I think Kurt had a solid first half," Arizona coach Dennis Green said. "He had a couple of drops that hurt him, because that would have put us in a position for some touchdowns. But I think that any time one of the 32 (NFL) teams loses a starting quarterback, it probably makes a difference."
As it was, McCown completed just 10 of 23 passes for 97 yards and only got the Cardinals close enough for the last of Rackers' four field goals because receiver Larry Fitzgerald skied to wrestle a ball away from Seattle cornerback Ken Hamlin on a key third down.
The Seahawks had their share of health issues Sunday, too – all at the same position. Cornerback Andre Dyson left early because of illness and his replacement, Kelly Herndon, later suffered what Holmgren called a stinger. That left Jordan Babineaux and Jimmy Williams as emergency fill-ins – not that Holmgren seemed to mind.
"Both of those fellows can play," he said. "We have a little more depth than we've had over the last couple of years at corner."
They also had better play Sunday than what they'd been getting. Holmgren had challenged Marcus Trufant, in particular, to step up his play against Fitzgerald, who in Arizona's first two games had caught 17 passes for 225 yards. He managed just three for 41 on Sunday.
But the fact was, the Seahawks kept pressure on Arizona not with defense but with offense – scoring on four of their first five possessions of the second half with an almost perfect mix of run and pass.
The run, of course, came from Alexander, who tied a Seahawks record with four rushing touchdowns – three 1-yarders and a 25-yard sweep for Seattle's first score – on a 140-yard rushing afternoon. Quarterback Matt Hasselbeck, in the meantime, overcame a few second-quarter hiccups to complete 20 of 31 attempts for 242 yards.
But the more impressive numbers were three and 80 – as in the three 80-yard drives Hasselbeck directed that led to Seahawks touchdowns, a show of remarkable consistency.
"That's what I hope for, but it's just pretty hard," Holmgren said. "You can't make a living at that in this league. The statistics have shown that you don't get a lot of 80-yard touchdown drives. I like the 1-yard touchdown drives better. It doesn't tax me too much."
Of the longer ones, the two that bookended the third quarter were the killers. Hasselbeck was 7-of-7 passing in those two possessions to four different receivers, and only once had to do deal with a third down.
This kind of early season momentum isn't new to the Seahawks, who started both 2003 and 2004 with three wins. But the 0-3 start has Arizona, which a few risk-takers picked as NFC West favorites, and Green reeling.
"The whole thing is not working," he said.
"I'm just surprised that I am not doing a better damned job. When I say it's not working, I'm talking about the strategy I put forth. The job I thought I could do, I have not been able to do. And I'm not happy about it right now."
Local journalism is essential.
Give directly to The Spokesman-Review's Northwest Passages community forums series -- which helps to offset the costs of several reporter and editor positions at the newspaper -- by using the easy options below. Gifts processed in this system are not tax deductible, but are predominately used to help meet the local financial requirements needed to receive national matching-grant funds.
Subscribe to the sports newsletter
Get the day's top sports headlines and breaking news delivered to your inbox by subscribing here.
---