News > Features
Leading 'Lady'
Thu., Sept. 29, 2005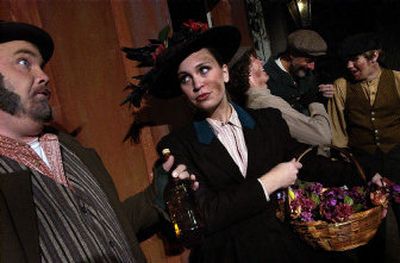 Rarely in Broadway history have cynical theater critics flipped out quite so completely.
When Lerner and Loewe's musical adaptation of George Bernard Shaw's "Pygmalion" opened in 1956, the New York critics became positively … positive.
Just listen to what they said the next morning:
Walter Kerr, Herald Tribune: "Don't bother to finish reading this review now. You'd better sit right down and send for those tickets."
Robert Coleman, Daily Mirror: "In case you have the mistaken notion that brains and fun don't mix, perish the thought. … A masterpiece of musical comedy legerdemain."
Brooks Atkinson, New York Times: "To Shaw's agile intelligence, it adds the warmth, loveliness and excitement of a memorable theater frolic."
William Hawkins, World-Telegram and Sun: " 'My Fair Lady' takes a grip on your heart, then makes you exult with laughter. It is a legendary evening."
Hawkins added that the songs are "likely to be unforgettable," and he was correct. Almost 50 years later, "The Rain in Spain," "I Could Have Danced All Night" and many of its other tunes are instantly recognizable.
The plot, too, remains well-known. Prof. Henry Higgins takes on a social-improvement project: He tries to convert the low-born Cockney flower girl Eliza Doolittle into a grand lady, minely (that is, mainly) by teaching her an upper-class accent.
If there was ever any doubt that this show would age well, that was put to rest in 1976 when it became a hit once again on Broadway. Kerr, still under its spell after 20 years, wrote: "No reason why 'My Fair Lady' shouldn't be revived and revived as long as there's justice, and a thirst for lilting bewitchment, in the world."
To kick off its 59th season, the Spokane Civic Theatre revives it in a run which begins with a gala opener Friday and continues through Oct. 29.
Troy Nickerson directs this version, with musical direction by Carol Miyamoto and choreography by Nickerson and Ryan Callan.
One of the elements that led to "My Fair Lady's" incredible initial success was the brilliant casting: Rex Harrison as Higgins, Julie Andrews as Eliza, Robert Coote as Col. Pickering and Stanley Holloway as Alfred P. Doolittle.
In this production, Nickerson has cast a number of Civic veterans. Thomas Heppler plays Higgins, Kendra Kimball plays Eliza, Wes Deitrick plays Col. Pickering and David Gigler plays Alfred Doolittle.
Other main roles are filled by Judi Pratt, Philip Atkins, Norilee Kimball and Evelyn Renshaw.
The Civic's executive director, Yvonne A.K. Johnson, said that audiences can expect to see (as in last season's "Hello, Dolly!") plenty of lavish, turn-of-the-century costumes.
Local journalism is essential.
Give directly to The Spokesman-Review's Northwest Passages community forums series -- which helps to offset the costs of several reporter and editor positions at the newspaper -- by using the easy options below. Gifts processed in this system are not tax deductible, but are predominately used to help meet the local financial requirements needed to receive national matching-grant funds.
Subscribe now to get breaking news alerts in your email inbox
Get breaking news delivered to your inbox as it happens.
---