Sports
Rangers rock Pineiro, roll past Mariners
Thu., Sept. 29, 2005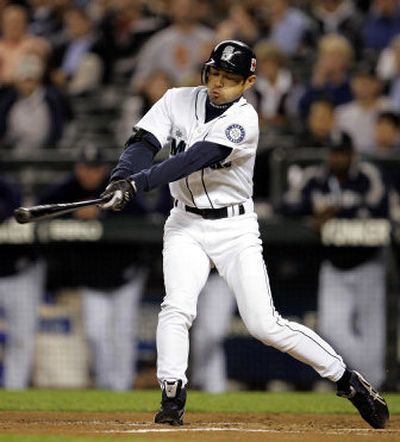 SEATTLE – Chris Young survived a shaky first inning and went on to match the Texas rookie record with his 12th victory as the Rangers beat the Seattle Mariners 7-3 on Wednesday night.
Young (12-7) allowed three runs in the first inning, but retired the final eight batters he faced and 11 of the last 12. The 6-foot-10 right-hander allowed three runs and five hits, struck out four and walked one to match the Rangers' first-year record set by Edwin Correa in 1986 and matched by Kevin Brown in 1989.
Alfonso Soriano had two doubles, Michael Young extended his hitting streak to 24 games with a two-run single and Mark Teixeira had two hits and an RBI for the Rangers, who had five of their 11 hits in a five-run, second inning.
Francisco Cordero came on in the ninth with two on and one out and earned his 37th save.
Richie Sexson hit a two-run homer for the Mariners.
In his final season start, Joel Pineiro (7-11) had his shortest outing of 2005. He lasted three innings, allowing seven hits and six runs.
Ichiro Suzuki singled up the middle to open the Mariners' first. That gave him 197 hits and he needs three over the final four games to reach 200 for a record fifth straight season. With one out, Suzuki stole second and went to third on catcher Gerald Laird's throwing error. Raul Ibanez then hit an RBI single.
Sexson followed with a two-run homer on a 1-0 pitch from Young. It was Sexson's 39th home run and he needs one more for his third 40-homer season and the 13th by a Mariner.
Texas scored five runs in the second. Soriano began the rally with a one-out double to right-center. Kevin Mench singled him to third and Soriano scored on Jason Botts' single to left.
Pineiro then threw nine straight balls – walking Laird to load the bases and Gary Matthews Jr. to force in a run. Young followed with a two-run single to center. Teixeira followed with a double to drive in Matthews.
The Rangers made it 6-3 in the third on Adrian Gonzalez's RBI single to center. In the sixth, the Rangers added a run on Matthews' sacrifice fly.
Notes
The announced crowd of 20,723 was the smallest in the 5 1/2 -year history of Safeco Field. The previous smallest was 22,428 on April 21. … Jeremy Reed, who will miss the rest of the season with a partially torn left wrist ligament, finished with 33 doubles, one short of the Mariners' rookie record set by Alvin Davis in 1984 and matched by Suzuki in 2001.
Local journalism is essential.
Give directly to The Spokesman-Review's Northwest Passages community forums series -- which helps to offset the costs of several reporter and editor positions at the newspaper -- by using the easy options below. Gifts processed in this system are not tax deductible, but are predominately used to help meet the local financial requirements needed to receive national matching-grant funds.
Subscribe to the sports newsletter
Get the day's top sports headlines and breaking news delivered to your inbox by subscribing here.
---