Sports
Ray's shining example put CCS on top
Thu., Sept. 29, 2005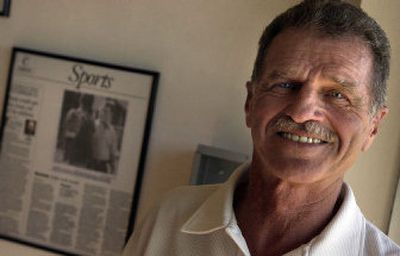 Athletic directors can't summon many stories to illustrate their competitive drive. Funding strategies and campus facility meetings don't make for a lot of fist pumps.
So Maury Ray has to go way back in the day.
It was 1974 and he was new to town as an assistant basketball coach to Craig Johnson at Spokane Community College. Before two campuses shared sports and the Sasquatch mascot, SCC and Spokane Falls Community College had their own basketball teams and were impassioned rivals. It's hard to believe now, but the gym was jammed when they played and competitive edge was everything.
"One game, Craig tells me to work the officials a little beforehand – let them know what they need to look for," Ray recalled. "Dan Sherwood is the head ref and I think I'm doing a pretty good job – and he throws me out before the game starts.
"I guess I was doing too good of a job."
Maury Ray had been the head coach at Minnesota-Duluth before coming to Spokane and figured he'd be down the road within a few years, on his way to becoming "the next John Wooden." Now he's retiring after 31 years as the A.D. and virtual godfather of community college sports in Spokane, which means he fulfilled a more distinct need than that of just another Wizard wannabe.
Officially, his last day at CCS is Friday – though he's staying part time to assist in the transition to a replacement, while he packs up his offices on opposite sides of town.
"I thought cleaning those out could be my part-time job," he said, "but they said they needed a little more out of me than that."
They got a fair amount in 31 years. Among other things, Ray put together the most broad-based junior college athletic program in the Northwest – from the three sports SCC and SFCC offered in '74 there are now 15, with only the University of Washington among state schools sponsoring more. On his watch, the Sasquatch have won 84 Northwest Athletic Association of Community Colleges championships, twice as many as any other school in the same period.
That's a tribute not only to his competitiveness, but a good eye. Ray hired well and most of those hires stayed a long time. And they didn't just coach – almost all are faculty in a physical education and wellness department that serves 5,000 students every quarter.
The community aspect of the community colleges has been validated by a parade of outside events that occupy the CCS facilities – from national championships such as the Junior Olympics or masters' track that Ray helped land for Spokane, or the fall high school league that fills two gyms at SCC four nights a week.
"He's always had a big vision for this place," said Johnson, who's still on the P.E. faculty. "The growth of the program, the department and the facilities, to the point where it's the best of its kind in the Northwest – he propelled that. Maury's leadership has been about more opportunity, whether it's scholarship opportunities for student-athletes or opportunities for students, period."
Bruce Johnson has experienced that as the CCS women's basketball coach, but earlier, too.
"I played for Craig and Maury," he said, "and we were pretty good. We had Steve Alexander and Erv Terry, who was a really good player. I was like the seventh or eighth guy. Erv was all over the place and he'd turn it over and Maury would want to sub me in, but by the time I got to the scorer's bench, Erv would steal it away again and Craig would call me back. … It was always like this running battle – Maury trying to get me in and Craig knowing Erv was better and pulling me out."
But Ray's appreciation for the long-term good of community college athletics in this town didn't take immediately. The staffs at SCC and the Falls were as competitive as can be, and Ray was an SCC guy.
"We're recruiting at Rogers High School and they had some good basketball guys," he said. "So we go up to Rogers to give out our catalog.
"Now, the catalog at that time had SCC's courses in one half of the book and you'd turn it over and the Falls stuff would be on the other half. We start handing them out and the kids say, 'Hey, this is different from what we got from the Falls.' And they show us – the Falls coaches had torn all theirs in half and put a blank cover on the back. They didn't even mention SCC!"
From the time he became SCC's athletic director in 1974, Ray resisted district president Max Snyder's inclination to merge the two departments. Then Jack Bafus retired from the A.D.'s job at the Falls, and Snyder gave Ray a choice: become district athletic director, or look for work.
"And I said, 'You know, this consolidation thing is not that bad,' " Ray laughed.
After some transitional hiccups, it was better than that. Athletes could now take classes on either campus. Staff could be put to better use. Women's teams were added rapidly and found success just as fast.
Ray hasn't won all the battles. Football was dropped in 1989, when the league dwindled to just three teams. CCS lost full tuition waiver scholarships in the 1980s and the NWAACC presidents followed by limiting athletic rides to $200 per quarter. Ray has had to go to bat numerous times to preserve athletics' cut of student fees, and to protect the physical education requirements that go toward A.A. degrees.
"I'm sure I've become a pain in the ass to people on the scholarship issue," said Ray, who continues to work to restore the tuition waivers, "but it's something I really believe in.
"Athletics at our level should be all about opportunity, and it should add to the kids' academic experience. The more opportunity you can offer, that's more avenues for kids to go to school. What's nice about our level is that we can be a place for so many different kids. For some, this might be as high athletically as they go. Or you'll have a kid who needs a second chance academically – a Dan O'Brien, but you don't get many of those – or one who is squared away and just needs to develop athletically and can go on and have some success at a higher level. Those are where the rewards are."
Those rewards don't come without challenges, a different kind of competition. For 31 years, that's been Maury Ray's game.
Local journalism is essential.
Give directly to The Spokesman-Review's Northwest Passages community forums series -- which helps to offset the costs of several reporter and editor positions at the newspaper -- by using the easy options below. Gifts processed in this system are not tax deductible, but are predominately used to help meet the local financial requirements needed to receive national matching-grant funds.
Subscribe to the sports newsletter
Get the day's top sports headlines and breaking news delivered to your inbox by subscribing here.
---