News > Features
Dastardly Director
Fri., Sept. 30, 2005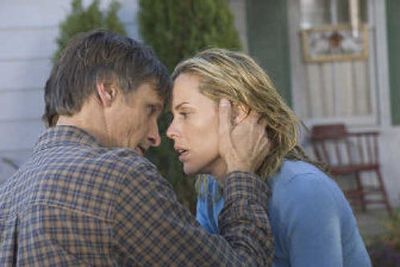 You would trust your children to David Cronenberg. But you would never, ever, ever, ever, ever let them see his movies.
Artistically speaking, the Canadian director of "The Fly," "Dead Ringers" and "Spider" has a history of violence – which happens to be the title of his audacious, sexy new thriller that opens today.
A modern Western starring Viggo Mortensen and Maria Bello as a blissfully married pair in an Indiana hamlet, "A History of Violence" involves a case of mistaken identity that makes the lives and libidos of this Norman Rockwell couple erupt into Salvador Dali territory.
What happens when your wife of 20 years suspects you are not the man she married? (Is anyone the person he or she was 20 years on?) And can this turn of events have beneficial effects in the bedroom?
With one hand Cronenberg takes aim at gun culture in the United States. With the other he shoots Cupid's arrow into the heart of marriage. With both he hits the bull's-eye.
Cronenberg's movies have always played dual themes, but none so resonantly as this one, which combines the motifs of Clint Eastwood's "Unforgiven" and Ingmar Bergman's "Scenes From a Marriage."
On Web sites such as Ain't It Cool News, the fanboys who are his base have been feverishly blogging, "Cronenberg is relevant again."
"I was always relevant to me," deadpans the chrome-haired director, 62, who has the mellow manner and Torontonian cadences of the late Peter Jennings but his own mordant humor.
"I've tried to sell out," he quips, sipping tea in a hotel room, "but it's so hard to find a buyer."
For the better part of the last decade, since the 1986 release of "The Fly," Cronenberg's challenging movies ("Naked Lunch," "Crash," "eXistenZ," "Spider") have been too brainy for the blood crowd and too bloody for the brain crowd. He is an artist whose speculative fictions – transplants of supposedly neutral tissue that have unintended effects, misfiring teleporters that inadvertently become gene splicers – often anticipate science.
With a persistency and consistency rare among an artist in any medium, Cronenberg, the Canadian Kafka, ponders whether a man is the author of his own identity, whether it's inscribed in his genetic code, and how drugs and technology can reshape it.
He says what drew him to "History," originally a graphic novel by John Wagner and Vince Locke, "is identity, the mystery of the human personality. It's an act of creative will to construct and maintain an identity."
And, yes, says the man wed 30 years to his second wife, Carolyn, marital identity is also a theme. "History" shows how marriage similarly is a collaborative act of creative will.
"The secrets spouses keep from each other and the structures that have to be in place for a marriage to last that long are certainly part of the identity equation," Cronenberg muses of the screen couple played by Mortensen and Bello.
A chord frequently struck in "History" is that even though husbands and wives are in the most intimate of relations, no one ever really knows his or her spouse.
"How well do we really know anybody?" Cronenberg asks. "We're fragmented. We have many identities within ourselves, some of which we suppress. We have a desire to connect with people and feel that we know them but it's scarily difficult to connect on all the levels that we exist."
And just plain scary to think that inside your beloved wife, mother of your children, beneath the Mary Poppins veneer, lurks Cruella De Vil. Or that beneath his George Bailey facade, your loving husband is Dirty Harry.
With his image of Mortensen as the armed American defending his homestead, Cronenberg delivers a blistering critique of the culture of violence in the United States.
In a way, the movie is about the flavors of violence. First we see an act of ruthlessness shorn of spectacle. Then we see a man acting in self-defense. Then we see bloodlust.
To Canadian eyes like Cronenberg's, Americans are gun-crazy. Canada has roughly one-tenth the population of the United States (32 million versus 295 million in 2002) and roughly three one-hundredths of its gun deaths (816 to 30,242).
"I had interesting discussions with Michael Moore about his characterization of violence in 'Bowling for Columbine,' " Cronenberg says.
"Where Moore suggested that there is the same percentage of guns in Canada as the U.S., but the murder rates were so much higher in the States, I would argue that the shotgun in a Canadian closet is different from the Glock on an American nightstand.
"We didn't have a Revolution or a Civil War in Canada," he continues. "We sent the Mounties into the West with guns; settlers followed without arms. We don't have the tradition of the armed citizen or popular imagery of the guy with the gun. There's never been the sense in Canada that the individual is supreme or that individual rights are supreme – it's all community thinking."
That said, Cronenberg admits with a puckish smile: "I don't mind Moore using Canada to beat up on the U.S."
Local journalism is essential.
Give directly to The Spokesman-Review's Northwest Passages community forums series -- which helps to offset the costs of several reporter and editor positions at the newspaper -- by using the easy options below. Gifts processed in this system are not tax deductible, but are predominately used to help meet the local financial requirements needed to receive national matching-grant funds.
Subscribe now to get breaking news alerts in your email inbox
Get breaking news delivered to your inbox as it happens.
---