News > Spokane
Merging etiquette divides drivers
Sat., April 1, 2006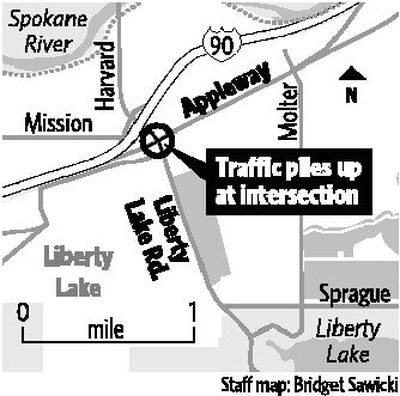 The long line of cars queued up on Liberty Lake Road might seem like normal traffic to the untrained observer.
But to the people living in and around Liberty Lake, it's a travesty; an example of all that is wrong with driving habits in the fledgling city. In a debate that has stretched for months, drivers wonder whether it's fair to merge after a streetlight, or if people should be more considerate and do their merging early.
"If you've been here very long you know that you can't cut in there," said JoAnn Hayes, a 14-year resident of the area who wrote a letter to the Liberty Lake Splash weekly newspaper expressing her displeasure with the situation at the intersection of Liberty Lake Road and Appleway.
The problem seems simple: The two northbound lanes of Liberty Lake Road must merge into one as the road turns into one-lane Harvard Road and crosses Interstate 90.
To some, like Hayes, the appropriate thing to do is to merge into the left lane before the intersection so that nobody is cut off or forced to allow cars in front of them.
But to others, like city resident Earlan Braley, a former traffic engineer in California, a merge sign on the other side of the intersection means that people should be allowed to fill both lanes of Liberty Lake Road, then merge in an orderly fashion after the light.
"You could describe it like a zipper," Braley said. "You're not elbowing in, you're just getting between two cars. If they did use it as a merge normally is used, more traffic could get through the light, and that's the whole purpose anyway."
Legal or not, it's inappropriate and inconsiderate, Hayes said.
"It's not very thoughtful, it's a 'me first' attitude, and unfortunately that happens," she said.
Currently, vehicles line up as deep as 20 cars in the left lane of Liberty Lake Road, waiting to cross the intersection. Occasionally someone will take the right lane and attempt to merge in on the other side of the light. Sometimes this attempt is successful. Other times the would-be merger is stonewalled by a tight pack of vehicles that had been in the left lane, unyielding in their space and preventing absolutely anybody to merge with them.
Hayes' letter sparked a near-weekly exchange, as letters on both sides of the contentious issue have been printed for months in the Splash. Immediately after publication, Hayes received phone calls of support from other residents. She attributes the problem to outsiders.
"Some of these people had moved in from other areas, where there is a lot of the kind of traffic where there's merging," she said. "We've just concluded they're all from California, and they just have a different attitude."
The long arm of the law tends to agree with the pro-merge crowd.
"The ones that have written that are engineers, well, they're right," said Liberty Lake Police Chief Brian Asmus. "I understand how it can make people upset, but people could just be considerate drivers and patient."
Luckily, accidents at the site are low, Asmus said.
Rather than speeding up to ensure vehicles are not allowed in front of them, drivers should allow cars to merge, he said.
"If both lanes are courteous, it wouldn't be a problem," Braley said.
Local journalism is essential.
Give directly to The Spokesman-Review's Northwest Passages community forums series -- which helps to offset the costs of several reporter and editor positions at the newspaper -- by using the easy options below. Gifts processed in this system are not tax deductible, but are predominately used to help meet the local financial requirements needed to receive national matching-grant funds.
Subscribe now to get breaking news alerts in your email inbox
Get breaking news delivered to your inbox as it happens.
---