News > Features
Baum Shelter
Sat., April 8, 2006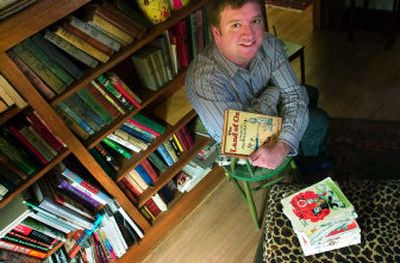 Everybody's heard of "The Wonderful Wizard of Oz." You have to dig a little deeper to find "Zauberlinda, The Wise Witch." Zauberlinda was a very Oz-like story published in 1901, replete with an Oz-like scene on the cover and an Oz-like story inside. Instead of Toto, there's a cat. The knock-off shows just how popular the land of Oz was, decades before the 1939 movie drilled it into the cultural consciousness.
A copy of Zauberlinda sits on a wooden bookshelf in Currie Corbin's South Hill home. It's part of his extensive collection of items related to writer L. Frank Baum, from his Oz books to the titles Baum wrote under pen names to the authors who flattered him with imitations.
"Most people only know about the movie, but there are all these other stories and characters," said Currie, 28.
Currie's collection of Oz – minus Zauberlinda and a few other items – will be on display at Gonzaga over the next few months, marking the 150th anniversary of Baum's birth. The exhibit will include many titles from Baum's series of 18 Oz books, posters advertising an Oz musical from 1913, and advertising images.
Baum and illustrator W.W. Denslow published "The Wonderful Wizard of Oz" in 1900, and it quickly became a series known for rich illustrations and a fantastic world of characters built around Dorothy, the Tin Man, the Cowardly Lion and the Scarecrow.
"Baum was like the total entrepreneur," Corbin said. "He took something that was successful and turned it into a franchise."
Corbin, who grew up in Miles City, Mont., began collecting the books when he was 12, after reading an article in an in-flight magazine about the Oz books. Soon he was scouring antique stores with his parents and hitting them up for ever-growing sums of money to feed his habit.
"My tastes got more expensive," he said. "I wanted to get the rarer items."
To pay for his collecting, Corbin started a business: He took beaver-damaged logs and turned them into pointy-hatted Santas. The gift shops in Yellowstone National Park and elsewhere in the state ate them up, he said.
"I made like $500, which was way cool," Corbin said.
The state's biggest paper, the Billings Gazette, did a big feature on him, and people from around Montana began mailing their Oz books to him. As he became more serious, he started skipping school occasionally to bid on Baum items at big auction houses like Sotheby's and Swann Galleries.
"I got some great stuff," he said. "A lot of signed copies. I targeted the things I'd never find on my own."
A lot of his books cost between $50 and $100, and the most he spent on an item was about $2,000, he said.
In the years since, he's expanded the range of items he collects to include Western photography, Yellowstone National Park items and other antiques. The South Hill home he shares with his wife, Wendy, and an enormous German shepherd, Dumas, is filled with antiques and collectibles.
"I couldn't imagine my life without collecting something," he said. "You could point to anything in here and I could probably tell you when I got it. It's kind of like a giant scrapbook."
Corbin approached Gonzaga as the 150th anniversary of Baum's birthday approached and offered his collection. Baum was born May 5, 1856.
"I usually work with Bing, not Baum," said Stephanie Plowman, special collections librarian at GU, referring to the school's Crosby collection.
But she thought Corbin's collection would have wide appeal because the movie was so familiar, but so much about the Oz books and earlier cultural popularity was not.
For Corbin, who dressed as the scarecrow last Halloween, the chance to show off his treasures is a collector's dream. He said that while he likes the Oz stories, it's the artistry of the clothbound, illustrated books themselves that drew him the most.
"These books are the most beautiful things that exist," he said.
Local journalism is essential.
Give directly to The Spokesman-Review's Northwest Passages community forums series -- which helps to offset the costs of several reporter and editor positions at the newspaper -- by using the easy options below. Gifts processed in this system are not tax deductible, but are predominately used to help meet the local financial requirements needed to receive national matching-grant funds.
Subscribe now to get breaking news alerts in your email inbox
Get breaking news delivered to your inbox as it happens.
---