Singer June Pointer, 52, dies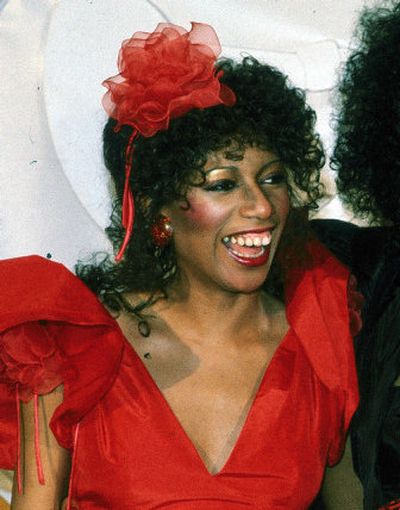 June Pointer, the youngest member of the Grammy-winning Pointer Sisters who was the lead singer on several of the group's hits including "Jump (For My Love)," "He's So Shy" and "Happiness," has died. She was 52.
Pointer died Tuesday of cancer at Santa Monica-UCLA Medical Center, according to a family statement.
The statement said June "died in the arms of her sisters Ruth and Anita and her brothers Aaron and Fritz by her side." Her sister Bonnie was "unable to be present," according to the statement.
While the Pointers reached the heights of pop stardom in the 1970s and '80s, the fruits of that success were often bitter for June. She was treated for mental breakdowns several times in the '70s and struggled with drug and alcohol problems. At one point, her behavior became so unstable that her sisters asked her to leave the group. She would later say that drugs had been a part of life since she was 13 and that her substances of choice included alcohol and Valium.
Born in Oakland, Calif., June Pointer and her sisters began singing in the choir of the West Oakland Church of God, where her parents were ministers. The six children in the Pointer family grew up in a strict household.
In the burgeoning music scene of San Francisco in the late 1960s, June and her sister Bonnie performed as a duo in clubs under the name Pointers, a Pair. Anita joined the duo in 1969, and the legendary impresario Bill Graham became their manager in the early 1970s. Ruth Pointer joined the group in 1972.
In 1973, they released their self-titled debut, featuring their cover of Allen Toussaint's "Yes We Can Can" and Willie Dixon's "Wang Dang Doodle." Both did well on the pop charts, and the group started gaining national recognition.
On tour, they created a nostalgic fashion look wearing dresses from the 1940s, accented with wide-brimmed hats, platform shoes and feather boas. They were among the first black women to play at the Grand Ole Opry and the first pop act to perform at San Francisco's Opera House. They won their first Grammy in 1974 for their country hit "Fairytale," written by Anita and Bonnie.
Despite Bonnie's decision in the mid-1970s to leave the group for a solo career, and June's increasingly unpredictable behavior, the Pointers continued to have steady pop success. In 1989, she released her second solo album, "June Pointer." June also posed for Playboy magazine.
By 2000, June's behavior had become increasingly erratic and fueled by crack cocaine and Xanax. She eventually entered a rehabilitation program.
---