News > Idaho
UI engineers a driving force
Thu., April 13, 2006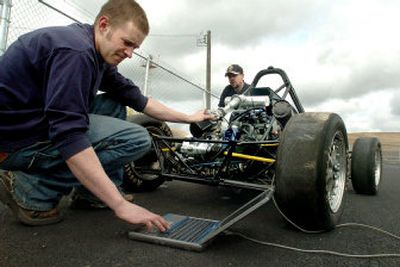 MOSCOW, Idaho – A group of engineering students at the University of Idaho has been learning some new formulas.
Such as the inexact and unscientific "rule of pi" – which grad student Jacob Leachman translates as: "Whatever time you think it's going to take to make something, multiply it by about three."
That's among many lessons the students picked up as they designed and built a mini Formula One racer, which they plan to race in a student competition next month. The car is powered by a 600cc Suzuki motorcycle engine and designed down to the last detail by the students as part of their senior project and the ongoing Vandal Racing program.
"I can't think of any other project that gives a more realistic view of what being an engineer really is," said Mike Thompson, a senior in mechanical engineering and team leader.
The annual Society of Automotive Engineers conference is May 17-21 at the Ford proving grounds in Detroit. For those team members who've been into cars for years, it's an exciting chance to meet race car drivers, rub elbows with experts from the auto industry and race their creation.
"It's kind of like a kid in a candy store," said Matt Soden, a junior and one of the team's drivers.
Not counting the engine and muffler, everything on the car was designed and built to the specifications of the team. The body is made of two layers of fiberglass sandwiching chunks of balsa wood – light and strong. Vandal Racing designed a gear drive rather than the chain drive most teams use. And they took their black-and-gold design off a helmet that was donated.
"You'd call Schuck's, and they'd say, 'What kind of car do you have?' " Leachman said.
At the competition, the teams will be graded on design and several driving competitions, including acceleration, cornering and figure-eight courses. The UI has fielded several teams since the 2001-02 school year and finished in the top 30 out of fields of 120 or more. This particular car actually missed last year's deadline, so the team members got a jump on this year's competition. Work on the next car is already under way.
"The car has been up and running for months now, so we feel extremely confident about our ability to compete this year," said Thompson, who hopes to work in the auto industry after graduation.
About 140 schools from around the world plan to be part of this year's competition.
Vandal Racing has been taking out its racer on test runs at a makeshift course at the Moscow-Pullman airport. The low-slung, three-gear racer has a top speed of about 70 mph, but it's the fast acceleration, rather than speed, that affects the drivers most.
"It'll do zero-to-60 in under four seconds-ish," Soden said. "Everything just comes at you so fast, it's a lot more difficult to process than driving on the street."
Local journalism is essential.
Give directly to The Spokesman-Review's Northwest Passages community forums series -- which helps to offset the costs of several reporter and editor positions at the newspaper -- by using the easy options below. Gifts processed in this system are not tax deductible, but are predominately used to help meet the local financial requirements needed to receive national matching-grant funds.
Subscribe now to get breaking news alerts in your email inbox
Get breaking news delivered to your inbox as it happens.
---