News > Features
RVs steal the show in this funny flick
Sat., April 29, 2006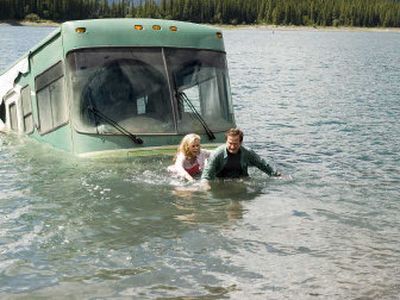 'RV," starring Robin Williams, has just rolled into a multiplex near you.
The family comedy features Williams as Bob Munro, a workaholic dad who takes his reluctant, slightly dysfunctional family on a road trip from Los Angeles to Colorado in a rented RV.
But this is not a movie review.
This is about the real stars of the film – a 35-foot Georgetown 359 and a classic 1948 Flxible Clipper.
In the movie, the Georgetown is the rented Munro family RV. The vintage Clipper belongs to the Gornickes, a fulltime RVing clan who befriends the Munros.
Because "RV" is an action-comedy road film, it involved the use of six look-alike Georgetowns and two identical vintage buses.
The Munro rig is a 2005 35-foot Forest River Georgetown 359 with triple slides.
Or at least it started out that way.
Director Barry Sonnenfeld wanted the Munros to have the "most garish RV that you've ever seen," according to press material provided by Columbia Pictures.
That was accomplished with the help of an outlandish bright lime green paint job with "RENT ME" inscribed on the side in the 5-foot high neon orange letters.
Of the six original Georgetowns, two are seen in the film; two others were fitted with special suspension hydraulics to tackle some of the extreme driving moments. A fifth RV, dubbed "Wild Thing," was fully functional with entire sections that were "wild" and could be removed so interior scenes could be filmed.
The sixth Georgetown came from the factory in pieces. The special effects department built the frame to allow hydraulic rams to raise and lower the RV once it was placed into a lake in one scene.
To complete the re-outfitting, all the original interiors were stripped out and replaced with a different color scheme, new cabinets, skylights and larger windows.
'Flxible Clipper'
The script originally called for the Gornickes to have a 1990s recreational vehicle, but director Sonnenfeld wanted something more classic. He asked picture car coordinator Rick Rasmussen to find a special rig.
Rasmussen located two "Flxible Clippers" that were used in the '40s and '50s by Greyhound and Trailways bus companies.
During their heyday, more than 5,000 Clippers roamed the highways. Today "Flxibles" can still be found trundling around federal parks as shuttles, serving as local tour buses and as RV conversions.
For the film, the crew overhauled both buses.
The seats were stripped away, the bodies were restored and painted an eye-catching red and cream, and they were generally outfitted like vintage motor homes.
Exterior appointments included "eyelid" shades over the headlights, a chrome ladder up the back and a wooden roof rack to complete its distinctive classic look.
The Clipper "attracted more attention and stopped more traffic than any other single vehicle I've ever worked with and that includes Vipers, Concept Vehicles and some other fairly exotic vehicles," says Rasmussen in the production notes.
Forest River Georgetown
"Our phones are ringing off the hook because of this movie," says Kevin McClure, sales manager at Freedom RV in Spokane Valley. "It is just incredible."
Freedom RV carries the Georgetown line of motor homes manufactured by Forest River in Indiana.
"We have a 2006 '359 XL' on the lot and it is a gorgeous coach," says McClure. "With a MSRP of $95,925, dollar-for-dollar it is the best out there."
Stan Tacazon, sales manager, Poulsbo RV, in Auburn, Wash., agrees.
"I can't keep Georgetowns in stock," says Tacazon. "My store usually has between seven and ten on the lot and right now we're down to two. The coaches come in and people buy them up."
The gasoline-powered Ford engine gets between 9 and 10 miles-per-gallon according to McClure.
"People are not worried about gas prices right now," says Tacazon. "They are worried about spending time with their family."
"The whole RV industry is saying this movie is supposed to do big things for us from a rental standpoint," says Matt Rounsley, operations manager for Brumback RV Rentals in Spokane Valley.
According to Rounsley, the base rental fee for a two-week trip to Colorado in a 26-foot Class C motor home, including 1,400 free miles, is $2,700.
"This year will probably be our biggest year yet," he says. "The price of gasoline basically hasn't been a factor. If anything it is helping us because people are shying away from buying and are renting more."
For more information
" Check out the Sony Pictures Web site for the "RV" movie trailer, pictures of the stars and production notes at www.sonypictures.com/movies/rv.
" Flxible Owners International, a group dedicated to the preservation and restoration of the beautiful line of motor buses, can be reached at www.flxibleowners.org.
" See Georgetown motor coaches at Freedom RV, 7807 E. Sprague Ave. in Spokane Valley. Call 921-9977 or go online at www.freedomrvusa.com.
" Brumback RV Rentals is located at 8915 E. Montgomery Ave. in Spokane Valley and can be reached at 927-3067 or online at www.brumbackrvrentals.com.
" Poulsbo RV with six locations up and down the I-5 corridor on the West Side of the state can be reached toll free at (888) 538-9400 or go to www.poulsborv.com.
" For general information about RVing visit the industry sponsored Web sites of Go RVing at www.gorving.com or the Recreational Vehicle Industry Association at www.rvia.com.
Local journalism is essential.
Give directly to The Spokesman-Review's Northwest Passages community forums series -- which helps to offset the costs of several reporter and editor positions at the newspaper -- by using the easy options below. Gifts processed in this system are not tax deductible, but are predominately used to help meet the local financial requirements needed to receive national matching-grant funds.
Subscribe now to get breaking news alerts in your email inbox
Get breaking news delivered to your inbox as it happens.
---