News > Features
WTC survivor believes Americans need to see what really went on
Sun., Aug. 6, 2006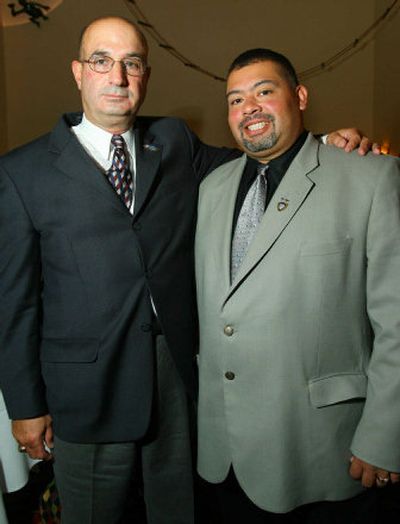 Is it too soon?
Are the wounds of Sept. 11 still too raw for American moviegoers to revisit what happened on that horrific morning in New York City nearly five years ago?
Director Oliver Stone, whose film "World Trade Center" opens Wednesday, doesn't think so. And neither does John McLoughlin, the 19th of only 20 people pulled live from the rubble of the crumbling building.
McLoughlin, 53, is lucky to be alive. He wears plastic braces on his scarred and disfigured legs. He was pulled from concrete and steel debris that trapped him under the destroyed concourse between the two World Trade Center buildings on Sept. 11.
He and fellow Port Authority Police Department officer William Jimeno were trapped for 22 hours. Now they are reluctant celebrities.
McLoughlin has toured the country with his wife Donna, promoting the film. The wear-and-tear of traveling on his injured legs meant he could do a recent interview only from his hotel room bed.
On permanent disability, he suffers from what he calls "compacting syndrome," a circulatory problem caused by his lower body being crushed for so many hours.
McLoughlin has had 30 operations, and there are long scars and deep grooves in his legs and thighs. He was in the hospital four months before returning to his Long Island home.
He's spent each Sept. 11 since then alone with his family, refusing all invitations to public observances. He found out something about himself at a New York Yankees baseball game he attended in a wheelchair in the early days of his recovery – he is now claustrophobic.
"I went to get an MRI and I freaked out," he recalls. "I've had MRIs before and that never happened."
McLoughlin's spirituality also has been affected by his ordeal.
"I've never been overly religious. I was raised Catholic, but I just live my life as a good person," he says. "But I believe something, some divine intervention happened for them to get us out of there."
McLoughlin says he doesn't miss his job or the long commute from his home in Goshen, N.Y., to the Port Authority. He no longer has to worry about getting a day off to see one of his kids' soccer games. He likes being around his wife and their four children, who range in age from 9 to 20.
These days, he says he "tries not to take the small stuff in life for granted. I appreciate what I have."
He says he's not interested in the celebrity that comes with his characterization in Stone's film.
"I'm not here to promote the movie, but to make people understand what went on," McLoughlin explains. "This is not made up."
As for whether it's too soon to see the day re-created on film, he says, "It's an individual decision. Some people will never be comfortable to see this as an historic event.
"But I think it's important for first responders to inform people while it's still fresh in our minds, while we have a vivid and clear recollection of that day."
Local journalism is essential.
Give directly to The Spokesman-Review's Northwest Passages community forums series -- which helps to offset the costs of several reporter and editor positions at the newspaper -- by using the easy options below. Gifts processed in this system are not tax deductible, but are predominately used to help meet the local financial requirements needed to receive national matching-grant funds.
Subscribe to the Coronavirus newsletter
Get the day's latest Coronavirus news delivered to your inbox by subscribing to our newsletter.
---