News > Business
Will higher wage bring minimal results?
Fri., Dec. 1, 2006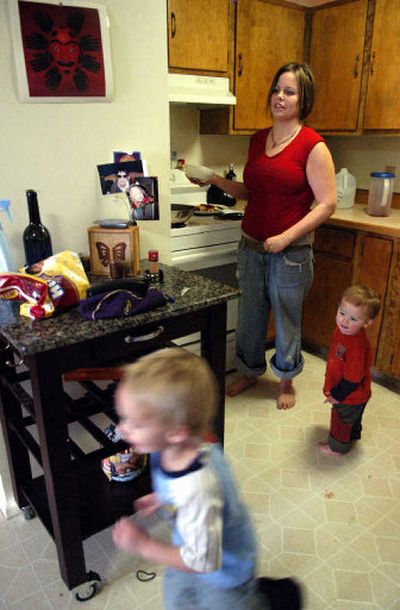 Two months into her minimum wage job at Target Corp., Tara Dennis realized she and her three children would be better off if she was unemployed and on food stamps. So she quit.
"As a single mom, minimum wage isn't going to get me ahead. It's not even going to get me caught up," said Dennis, who lives in Missoula.
A proposed hike that would bring the Federal minimum wage to $7.25 would give workers like Dennis their first raise since the Federal minimum increased to $5.15 in 1997. But some low-income workers and their advocates say the wage increase won't affect many workers and is not a way out of poverty for minimum wage workers. Since the last hike, wages for most of the lowest-paid workers have risen above the federal minimum wage, while prices for necessities such as housing and transportation have grown faster.
"We should be aware that this is an extremely moderate proposal," said Jared Bernstein, senior economist of the Economic Policy Institute.
The minimum wage hike, which Democrats have put at the top of their agenda when the next Congress convenes in January, would affect 1.9 million hourly workers who make minimum wage and workers who get tips, who can make less than minimum wage. It would raise wages for an estimated 6.5 million workers or 4 percent of the work force — janitors, waitstaff, security guards, cashiers and store clerks — according to the Economic Policy Institute.
Adjusting for inflation, the minimum wage of $5.15 is at its lowest level since 1955. By 2009, a $7.25 minimum wage would have the spending power of $6.75 today, Bernstein calculated using Congressional Budget Office projections.
A wage increase to $7.25 would help, but "it wouldn't put anybody in the clear," said Cara Prince, 41, of Louisville, Kentucky. She has been working for a temporary agency for two years, doing factory, warehouse and restaurant work at $6 an hour.
"There's a whole lot I can't do," because of the low pay, she said. "By the time they take taxes out, there's nothing left. Just $23 a day."
But the proposed increase "is not a solution to poverty," said Matt Fellowes, a scholar at the Brookings Institute. "This is, for the most part, a symbolic effort," he said.
Twenty-eight states and the District of Columbia will have 2007 minimum wages above the Federal level. The highest minimum wage in the nation is Washington state's $7.63 an hour, which is set to increase to $7.94 on Jan. 1. A minimum wage worker in the state working full time would make $16,515 a year before taxes. The federal poverty threshold for a family of three is $16,600. Idaho's minimum wage matches the federal minimum of $5.15 an hour.
The real-life math of the minimum wage is complex.
Dennis, who is 23 and has three children, said she lost her food stamps when she went to work. Her family lives in subsidized housing and when her income increased, her rent did too. Plus, she got a bill for previous months at the higher rate. Then there were the day care costs.
"It got to the point where if I wasn't working there, I could be with my kids and pay my bills," said Dennis.
Montana was among states that passed minimum wage increases in the November election, along with Arizona, Colorado, Missouri, Nevada and Ohio.
Herman (Mack) McCowan, 61, of Cleveland, was active in the Ohio office of Let Justice Roll, an organization that advocated for a higher minimum wage. In Ohio, the minimum wage increased from $5.15 to $6.85 and will now be indexed to inflation.
"At $5.15 an hour, you can't really extend yourself, you only exist," he said. McCowan worked for four years as a day laborer, making $5.15 an hour, before landing a $6 an-hour job at a community center.
With the roughly $80 a week a full-time worker would have after the federal wage hike, "You're able to afford a telephone, able to pay your light bill on time, able to pay your rent," he said.
If there are two people at home "it will allow you to put a little more food on the table, sustain yourself a little bit better than before," McCowan said. "You will be able to relieve a lot of the stress."
Stagnating wages for unskilled workers coupled with increased housing costs have put more working people at risk of being homeless. For instance, about 28 percent of homeless adults in Louisville, Kentucky homeless shelters are working, according to the Louisville Coalition for the Homeless.
One-quarter of hourly workers who make minimum wage are teenagers, but about half are older than 25, according to the Bureau of Labor Statistics.
For some workers, a job near minimum wage is their only option. Paula Berrios, 66, helps support her daughter and grandchildren in El Salvador working as a janitor for $7.18 an hour. Berrios, who lives in Alexandria, Virginia, does not speak English.
"I'm desperate," she said, speaking through a translator. "That's all I can get."
Local journalism is essential.
Give directly to The Spokesman-Review's Northwest Passages community forums series -- which helps to offset the costs of several reporter and editor positions at the newspaper -- by using the easy options below. Gifts processed in this system are not tax deductible, but are predominately used to help meet the local financial requirements needed to receive national matching-grant funds.
Subscribe now to get breaking news alerts in your email inbox
Get breaking news delivered to your inbox as it happens.
---