News > Spokane
Migrant to mainstream
Fri., Feb. 3, 2006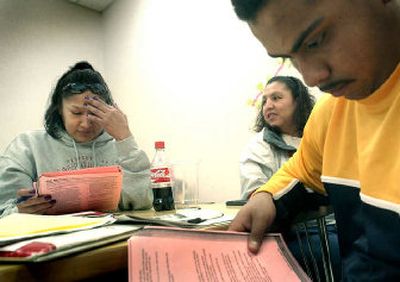 PULLMAN – Jose Gonzalez dropped out of school in 11th grade so he could work.
As he moved from washing cars in a lot to picking cherries to driving a tractor, he heard a repeated refrain from co-workers: Go back to school.
"They were telling me if I could get a better education, I should," said Gonzalez, an 18-year-old resident alien from Pasco.
So Gonzalez was interested when he heard about Washington State University's High School Equivalency Program – an eight-week crash course for the GED. It's the country's oldest continuous program in education for migrant workers, and it has helped almost 3,000 students earn a GED since it was formed in 1967.
Gonzalez was born in Mexico and moved to the United States with his family at age 12. After finishing the program, he hopes to get further training in auto mechanics – something he already enjoys and plans to make a career. In any case, he knows he doesn't want to spend a lifetime working in the orchards.
"It's not easy," he said. "It is not an easy job."
Gonzalez is one of about 30 students who are staying on campus in Pullman for eight weeks, taking classes all day and participating in college life.
"These are really bright, capable people, who can go into blue collar work or the professional ranks, who have just not historically had the opportunity to do it," said Dennis Warner, associate dean of the College of Education and director of the program. "The GED can provide them that opportunity."
The session began in early January, with students studying writing, reading, science and math. The school hosts four sessions a year, divided into Spanish and English language classes. To qualify for the program – run on a federal grant – students must be at least 17 and work in seasonal or migratory jobs.
Warner said WSU's program is unique because students live on campus and take classes full time. Nonresident GED programs can take a lot longer to complete, he said, which can be a problem for people who move to follow work.
More than three-quarters of the students are of Hispanic origin. Some are here from Mexico on work permits; others are American-born citizens of migrant parents. About a fifth are Native American.
Though the program covers the cost of classes and housing, students are still making a big sacrifice to come to school for eight weeks, said Roy Escobar, an instructor in the program.
"Some of the students have families and kids," he said. "Some have bills, obviously. Some are sole providers for families still living in Latin American countries. It's kind of a risk to come improve their education."
Terri Little Light, a 31-year-old member of the Crow tribe from Lodge Grass, Mont., came to the program with her sister. She's worked on a family ranch and planted trees seasonally for government agencies. She said she dropped out in 10th grade, when she had a child to care for.
Now she has three children and is trying to catch up. "I'm trying to put about 15 years of schooling into one month," she said.
The goal of the program is to move people out of migrant work and into more stable, better-paying jobs, or into higher education. WSU's College of Education compiled a report in 2004 showing that, over the previous five years, 91 of 414 people in the program went on to further education, and 78 moved into other types of work.
Joel Martinez is one of the success stories. He took the GED program in 2000, went on to earn two bachelor's degrees at WSU, and is now a doctoral student in child psychology.
The program "really prepares students not to stop at that educational level but to continue looking for opportunities," said Martinez, 27.
Martinez came to the United States from Mexico as a teenager. He worked for several years in the fields around Mattawa, Wash., but when he heard about the WSU program he was interested immediately. Now he's hoping to be a psychologist serving Latino populations.
Local journalism is essential.
Give directly to The Spokesman-Review's Northwest Passages community forums series -- which helps to offset the costs of several reporter and editor positions at the newspaper -- by using the easy options below. Gifts processed in this system are not tax deductible, but are predominately used to help meet the local financial requirements needed to receive national matching-grant funds.
Subscribe now to get breaking news alerts in your email inbox
Get breaking news delivered to your inbox as it happens.
---