News > Features
Piquing curiosity
Mon., Feb. 6, 2006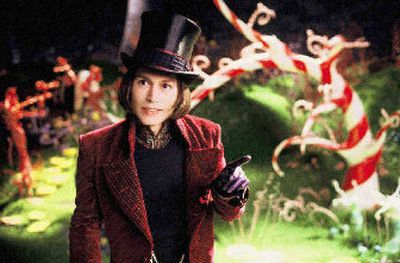 The debate raged over breakfast.
Did George float away with balloons or a kite?
"He floated away with the kite and the balloons," my 5-year-old insisted, dragging out "The Complete Adventures of Curious George" to prove it.
With "Curious George" opening in movie theaters this weekend, one of the most recognizable characters in children's literature is garnering renewed interest and not just at my house.
Curious George parties are scheduled at several of the Spokane public libraries in the next few weeks as librarians capitalize on the movie's publicity.
"What we have found … is interest in these books just zooms," said Sally Chilson, youth services coordinator for Spokane Public Libraries.
From "Charlie and the Chocolate Factory" to the more recent "The Chronicles of Narnia: The Lion, the Witch and the Wardrobe," the movie versions "really bring up a lot of buzz about the books," she said.
Though Chilson said that the demand for Curious George books is always high, "anything that raises the profile of books is good."
The Curious George movie should appeal to kids as well as grownups who remember from their own childhood the little monkey who was always getting in trouble. Houghton Mifflin published "Curious George" in 1941, and, according to the company's Web site, the original story is so popular it has never been out of print.
Have fun with George
Over the years, George has made the leap from the books to videos, computer games and, along with the big-screen release this week, to portable video game devices. But there are lots of low-tech George activities that can be downloaded for free from the Houghton Mifflin Web site. Dozens of files feature coloring pages, mazes, dot-to-dots, spelling and math worksheets and even a Curious George party kit. Check it out at www.houghtonmifflinbooks.com/features/cgsite/.
To get a taste of the digital fun that may flood the kid-tech market with the release of the movie, check out the official movie site at www.curiousgeorgemovie.com, which features an interactive game, a movie trailer and other activities.
Local journalism is essential.
Give directly to The Spokesman-Review's Northwest Passages community forums series -- which helps to offset the costs of several reporter and editor positions at the newspaper -- by using the easy options below. Gifts processed in this system are not tax deductible, but are predominately used to help meet the local financial requirements needed to receive national matching-grant funds.
Subscribe now to get breaking news alerts in your email inbox
Get breaking news delivered to your inbox as it happens.
---