Sports
Cougs stun Seattle
Sun., Jan. 8, 2006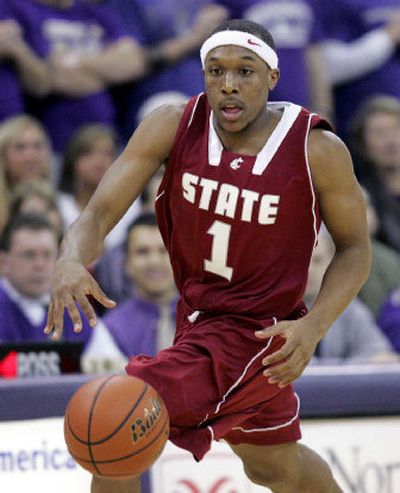 SEATTLE – It's difficult to celebrate much when you're on crutches, but Derrick Low was going to give it is best shot.
The boot protecting his broken right foot, an injury suffered on Tuesday in practice, supposedly also contained Washington State's chances to pull an upset in basketball's Apple Cup on Saturday night. Instead, it only held him back from joining the rest of the Cougars as they leapt with joy, having overcome a 13-point deficit to win 78-71.
"I think anything was possible," Low said, just steps away from the crimson mob. "This shows how much character our team has."
Moments earlier, it had been a teammate, Josh Akognon, giving it his best shot. Only this one was on the floor, on the left baseline, from 3-point range in a 71-71 game. And when he sank it with 17.8 seconds left he also buried the hometown Huskies, who had beaten WSU 11 straight times in the building.
Not to mention that the Cougars, in 52 tries, had never won a road game in the building of a Top 10 team, a status the No. 10 Huskies (12-2, 1-2 Pac-10) barely held. But for one night, the Cougars (9-3, 2-1) seemingly forgot about all that history and drove a dagger through the hearts of the purple-clad majority of the 10,000 on hand.
"Robbie (Cowgill) on the side of me was screaming, 'No, we need a better shot,' " Akognon said of the game-winning 3-pointer, which came thanks to a Cowgill assist. "But I just knew it was going in, so I took it."
Akognon was one of two guards to have a career night in Low's absence. Red-hot from the field in 26 minutes off the bench, the sophomore scored 27 points, hitting 6 of 10 from beyond the arc. Fellow sophomore Kyle Weaver, alternating with senior Randy Green at point guard, scored 19 points with six rebounds and six assists. Weaver was 8 of 10 from the floor, and both he and Akognon's point totals were career highs.
"We went out there knowing he was hurt," Weaver said of Low, "and we fought."
Most impressively, the Cougars fought back after falling behind 29-16 well into the first half. Unable to get any offense going against a swarming Huskies defense and unable to stop Brandon Roy (27 points) on the other end, WSU found its way when Cowgill blocked two consecutive Jamaal Williams shots and Caleb Forrest added a third block on Williams. For whatever reason, that sequence seemed to startle the Huskies and spark the Cougars.
WSU finished the first half on a 16-4 run to pull within two at the half, and led by as many as 12 in the second before a Washington comeback brought the game down to the final seconds.
"I was panicked, scared, trying to get everybody else to calm down even though I was scared," Akognon said, then recalling coach Dick Bennett's words. "He just kept screaming, 'Be poised.' "
Said Bennett, calling this the gutsiest win of his three-year WSU tenure: "That was the theme. … The middle 30 (minutes) was rather special in the sense that we made some big stops. We got great play off our bench from Ivory Clark and Caleb Forrest. I thought Kyle Weaver was just pretty special tonight also."
The win was finished off when Weaver drew a Roy charge with 12.3 seconds left, fouling out the Washington senior and leading to four WSU free throws to cap the scoring.
The Cougars had planned on leaving the building as quickly as possible, even before tip-off, with a 10:20 p.m. flight booked back to Pullman. The game's length was going to make it difficult to get to the airport on time, but with a Pac-10 win of this magnitude under their belts, missing a flight wasn't even going to bother WSU.
"I don't care," Cowgill said. "That was a big win, man."
Notes
This was WSU's first win at Hec Ed since 1994. … The Washington student section, one year after Bennett's infamous inappropriate gesture, greeted him with a "mind your manners" chant, which Bennett acknowledged with a quick wave. … Brandon Gibson, a starting wide receiver, was in uniform for the first time since starting to practice with the basketball team more than a week ago.
Local journalism is essential.
Give directly to The Spokesman-Review's Northwest Passages community forums series -- which helps to offset the costs of several reporter and editor positions at the newspaper -- by using the easy options below. Gifts processed in this system are not tax deductible, but are predominately used to help meet the local financial requirements needed to receive national matching-grant funds.
Subscribe to the sports newsletter
Get the day's top sports headlines and breaking news delivered to your inbox by subscribing here.
---