News > Features
Turning a corner
Mon., Jan. 30, 2006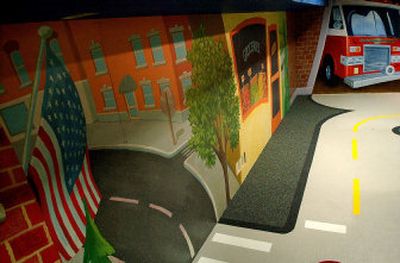 If kids who go through the newest exhibit soon to open at Mobius Kids start nagging their parents about wearing seat belts and bicycle helmets and sharing the road with cyclists and pedestrians, David Jones will be happy.
"As a parent, what's more shameful than being reminded of something by your kid? Uh, oh, busted," he said.
Though the goal of Cooper's Corner isn't to get grownups in trouble with their kids, Jones said when children learn about sharing the road at an early age it can help save lives.
The exhibit – set to open Feb. 10 – is named after Cooper Jones, a 13-year-old Spokane boy who was participating in a sanctioned bike race when he was hit by a motorist in 1997. Since the accident that killed their son, David and Martha Jones have embarked on a journey to honor Cooper's death by doing all they can to improve safety on the state's roads.
In 1998, the Washington State Legislature passed the Cooper Jones Act, providing funding for bicycle and pedestrian safety education programs. A $25,000 grant from the Cooper Jones Advisory Committee of the Washington Traffic Safety Commission was made to the then Children's Museum of Spokane for a safety exhibit. Though years have passed since the grant was made, David and Martha Jones said they didn't lose faith that something would come of it.
But they aren't taking credit for Cooper's Corner, which they say is another one of those "weird little Spokane things" where the community adopts an idea and it grows into something way beyond the original concept. Like Bloomsday.
"Every once in a while the Spokane community really pulls together to create something special. That's what happened," David Jones said. "Our original contribution would not have paid for half of what will open at Mobius."
Cooper's Corner is designed to be a mini city where visitors will see how pedestrians, cyclists and motorists interact. It will feature a roadway, working traffic lights and video cameras showing real Spokane roadways that kids can look at while pedaling stationary bikes.
All through the project, "people were willing to jump in and say we can do that for well below cost or for free," said Mary Brandt, director of exhibits for Mobius Kids.
The Spokane Regional Health District's Injury Prevention Program played a key part in the exhibit, as did the Safe Kids Coalition, local fire departments, local contractors and building supply stores.
Through signs in the exhibit, Cooper reminds kids (and their parents) to have fun but to be safe doing so. It's designed to plant the seed of being safe so it will become habit.
"If you learn this in third grade, that's an attitude you will carry with you as an adult, as a parent," David Jones said. "It's a state of mind. You have to look out for yourself and you have to look out for others."
Martha Jones said that when kids are playing in Cooper's Corner, wearing the race jerseys and helmets, it's a teachable moment for the whole family, with signs for parents or grandparents to read and understand the deeper meaning of the exhibit. "We wanted people to know why this happened, that it could have been prevented."
The Joneses hope the exhibit will encourage – not deter – children and adults to take up cycling or walking for fun. "There's a right way and a wrong way, and we want you to do it the safe way," Martha Jones said.
"You don't want to make people think the world is too dangerous to live in," said David, who took up cycling after Cooper died as a way to remember and connect with his son. "Cooper was a racer. There's an inherent amount of risk in racing." Cooper and his parents understood that he might crash, that he could suffer road rash or even break his collarbone. "He knew the risks," David said. "The risk you shouldn't have to take is that someone is going to run over you and kill you."
The education at Cooper's Corner goes both ways, for drivers and cyclists, the Joneses said. In the end, it comes down to being courteous and showing a certain amount of consideration for everyone on the road, they said.
David Jones said he hopes adults, perhaps prodded by the kids in their lives, will start thinking that the cyclist or pedestrian they're passing could be them or their own kid tomorrow. "Would you kill someone to get somewhere 30 seconds faster?"
Cooper's Corner will be dedicated in a private ceremony on Feb. 9. Mobius Kids will open one hour early on Feb. 10 for a members-only preview of Cooper's Corner and then will open to the public at 10 a.m. Mobius Kids is located in the lower level of River Park Square. For more information, call 624-KIDS.
Local journalism is essential.
Give directly to The Spokesman-Review's Northwest Passages community forums series -- which helps to offset the costs of several reporter and editor positions at the newspaper -- by using the easy options below. Gifts processed in this system are not tax deductible, but are predominately used to help meet the local financial requirements needed to receive national matching-grant funds.
Subscribe now to get breaking news alerts in your email inbox
Get breaking news delivered to your inbox as it happens.
---