News > Business
A smooth first year for Boeing CEO
Sat., July 1, 2006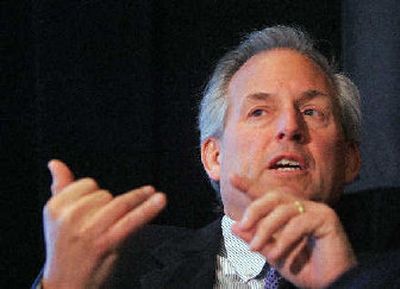 CHICAGO — First-year CEO results don't get much better than they've been for Jim McNerney at Boeing Co.: a soaring stock price, a stumbling rival and a new airplane that's an industry darling before it ever leaves the ground.
McNerney can't claim credit for the resurgence of the world's second-largest airplane maker as he marks a full year with the company; it was well under way when he arrived from 3M Co. last July 1.
But he has done something his two predecessors couldn't manage: steering the company clear of ethics controversy and lessening the whiff of scandal that has surrounded it for several years.
"At the one-year point, Jim McNerney's contribution has mainly been in returning credibility to the corporate office," said Peter Jacobs, an analyst for Ragen MacKenzie in Seattle. "He has raised the ethical bar and put into place things to prevent some of the misdeeds of the past."
Now the industry is watching to see what McNerney does with the business momentum the company has generated — and whether he can improve on Boeing's runnerup spots to Airbus SAS in commercial airplane sales and Lockheed Martin Corp. in military contracting. So far in his term, success is due in no small part to banner sales of the still-in-development 787 airplane.
"He's doing a great job steering a supertanker, but the course changes were largely set in place before he arrived," said Richard Aboulafia, an aerospace analyst for the Teal Group in Fairfax, Va. "There's not a whole lot of booking business and execution that he can be credited with."
The 56-year-old McNerney, who formerly ran General Electric Co.'s airplane engine business, also has stressed ethics. But he has done so less publicly, keeping a relatively low profile while trying to build ethics more strongly into the company culture.
Among other changes, he has linked pay and bonuses to how well executives embrace "Boeing values," such as promoting integrity and avoiding abusive behavior. He also established financial incentives for managers not based solely on a rising stock price but on improved performance.
McNerney told analysts Thursday that the company is pursuing "substantial efforts" to strengthen its ethics and compliance programs. "We are focused on turning ethics and compliance into a competitive advantage for Boeing," he said.
On the legal and political front, McNerney has pushed to resolve a three-year Justice Department investigation into defense contracting scandals. The company announced it expects to take a second-quarter charge reflecting a settlement with the U.S. Justice Department in which it will pay the government $615 million — without having to face criminal charges or admit wrongdoing.
In the meantime, analysts say he has left key decisions involving Boeing's commercial airplane manufacturing and defense contracting businesses to the leaders of those units, Alan Mulally and Jim Albaugh.
Local journalism is essential.
Give directly to The Spokesman-Review's Northwest Passages community forums series -- which helps to offset the costs of several reporter and editor positions at the newspaper -- by using the easy options below. Gifts processed in this system are not tax deductible, but are predominately used to help meet the local financial requirements needed to receive national matching-grant funds.
Subscribe now to get breaking news alerts in your email inbox
Get breaking news delivered to your inbox as it happens.
---