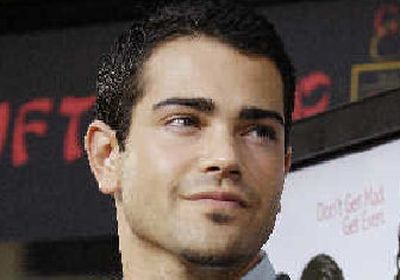 God's gift to women enters the hotel clutching a generic baseball cap. Presumably it's an emergency disguise, something to slap on his head so he can slip away incognito if an estrogen riot breaks out.
A full-scale, women-gone-wild meltdown is a very real possibility when Jesse Metcalfe is around. It's like Elvis has entered the building.
"From time to time, it seems like I have a pretty strong reaction from the ladies," he says. "I guess that's not a bad thing."
Metcalfe, 27, thought he was used to frantic female fans after four years – most of them shirtless – on NBC's steamy soap "Passions."
Then came his role as the randy teenage gardener on "Desperate Housewives," playing boy-toy to Eva Longoria.
While "Passions" appealed primarily to teens and young adults, he says, " 'Housewives' really made me popular with the older set. I have middle-aged women coming up to me all the time proudly identifying themselves as desperate housewives and coming up with some pretty aggressive lines."
In "John Tucker Must Die," the new teen comedy film, he plays the title role, a high school stud athlete – a cross "between an Abercrombie model and a Greek god."
When three alpha girls from different cliques (Sophia Bush of "One Tree Hill," R&B singer Ashanti and Arielle Kebbel of "Aquamarine") realize he is dating them all simultaneously, they plot revenge, with help from a newcomer (Brittany Snow of "American Dreams").
Metcalfe was born in California to an Italian-French father and an Italian-Portuguese mother. His parents split, and he moved with his mother to Connecticut when he was 3.
His striking looks always have attracted attention.
"When you're a young guy going through adolescence, you don't want to be too good-looking," he says. "I would dye my hair crazy colors and wear weird clothes and definitely try to play it down."
After studying television and film at New York University, Metcalfe began modeling to support himself. Then he was snapped up by "Passions" at age 19 and moved to Los Angeles.
"He'd walk down the hallways at work and every woman's head would almost come unscrewed," says castmate Ben Masters, a veteran actor. "And he didn't even really know it. He was working on his lines."
After four years on the soap, Metcalfe left, eventually landing the "Housewives" job.
"My role was kind of a dream," he says. "I got to roll around with Eva every day. She's a pleasure to be around, so fun and energetic. And she's obviously gorgeous."
Still, Metcalfe hasn't yet committed to a third season on Wisteria Lane.
" 'Desperate Housewives' was an amazing opportunity and something I'm very thankful for," he says, "but I don't want to get stuck playing John the gardener because he can be a little limiting."
Though if you have to be typecast, God's gift to women isn't too shabby a pigeonhole.
The birthday bunch
Actor Geoffrey Lewis is 71. Actress Susan Flannery ("Bold and the Beautiful") is 63. Singer Gary Lewis (Gary Lewis and the Playboys) is 61. Actor Wesley Snipes is 44. Author J.K. Rowling ("Harry Potter") is 41. Actor Dean Cain ("Lois and Clark") is 40. Actor Robert Telfer ("Saved By The Bell") is 29.
---