News > Business
Selling an image
Fri., March 10, 2006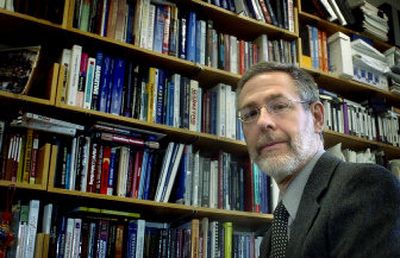 Want to create an effective advertisement?
Your best bet might be to ignore the product completely. Pick some pleasant music or a sexy spokesmodel. Make it funny. Remind people of the good old days.
Darrel Muehling's two decades of research suggest those may be the best strategies of all.
"Advertising isn't in the business of selling a product," said Muehling, a professor and chairman of the Department of Marketing at Washington State University. "It's more in the image-building or image-creation business."
Muehling has researched the influence of nostalgia in advertising, the long-term effectiveness of negative versus positive ads, and the influence of ads on people who aren't paying much attention, among other subjects. For his lifetime of work, he's being honored by the American Academy of Advertising later this month, one of just 14 people the organization has so honored since 1958.
People tend to be unreliable when you ask them whether advertising affects them. Most say it doesn't, Muehling said, but believe that advertising does affect other people.
If that's so, "explain why anybody would pay three times as much for Bayer aspirin than the Safeway brand or generic brand," he said. "Aspirin is aspirin."
The answer is good ads – ads that make people feel good, remember the product, develop an image of a brand – can cut through indifference or lack of engagement on the part of the viewer.
"Advertising is like grass," said Muehling. "You never see it grow, but every once in a while you have to get out the lawn mower."
Muehling's interest in advertising goes back to his days as a student at the University of Nebraska, where he earned two bachelor's degrees, along with a master's and doctorate.
He began studying comparative advertising, and the various advantages and disadvantages involved in that. That theme is still alive in his work, as he and colleagues are interested in looking at the long-term effectiveness of negative ads.
Over the short-term, "there's quite a lot of evidence, at least anecdotal, that negative advertising works," he said.
Whether negative advertising has a lasting effect on consumers is less well-known, he said. But he selected an example from the world of politics to illustrate the power of the negative ad to stick in the mind – the Willie Horton ads criticizing Michael Dukakis in the 1988 presidential elections, which many people still remember very clearly.
Any company would love to have an ad that was remembered for 20 years, he said.
Most recently, Muehling and WSU professor David Sprott published research on the effects of nostalgia in advertising. Researchers created two print ads – one focusing on memories and the good old days, the other focusing on seizing the moment and the possibilities of the present.
People tended to like the nostalgic ads better and had more favorable opinions toward the product, too. In times of war and uncertainty, nostalgia may be even more effective, he said.
"People kind of want that safety net," he said. "They want to return to a simpler life."
Nostalgia is more effective among older viewers, and with the graying of the baby boomers it could become an even more potent tool for advertisers.
But nostalgia isn't only positive, the researchers found. It's also sometimes bittersweet. Nostalgic ads produced more personal reflections on the part of the viewer, both negative and positive. Precisely how that affects an ad's effectiveness is something Muehling and Sprott will study in the future.
Muehling said it's nice to be recognized by the American Academy of Advertising.
"It's not the Nobel Prize," he said. "I'm pleased by the award, but I'm just doing research I enjoy doing."
Local journalism is essential.
Give directly to The Spokesman-Review's Northwest Passages community forums series -- which helps to offset the costs of several reporter and editor positions at the newspaper -- by using the easy options below. Gifts processed in this system are not tax deductible, but are predominately used to help meet the local financial requirements needed to receive national matching-grant funds.
Subscribe now to get breaking news alerts in your email inbox
Get breaking news delivered to your inbox as it happens.
---