Loon's death felt beyond Ferry Lake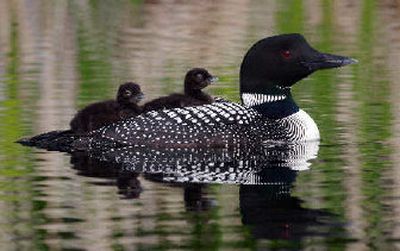 He was found in October, floating lifeless in a shallow Puget Sound cove near the Hood Canal Bridge. On his right leg was a metal band stamped with the numbers 93803474.
Known as "Ferry Lake male," the loon and his mate were among the most prolific breeders of only a dozen remaining pairs in the state.
Word of the common loon's death has filtered back to Eastern Washington, where for the past six summers, he had tended a nest on the shores of Ferry Lake, south of Republic.
"They were one of the strongest territorial pairs in the state," said Ginger Gumm, a wildlife photographer and resident of Loon Lake, about 30 miles northwest of Spokane.
Against considerable odds – everything from being attacked by eagles to being snagged by fish hooks – the Ferry Lake loon couple managed to hatch two chicks each year since they had begun spending summers on the 19-acre lake in 1999, said Gumm, who spent countless hours documenting the pair with fellow photographer Daniel Poleschook Jr.
The lake is small enough to have most of its fish killed off each winter because of a lack of oxygen. During the loons' first season on the lake, the lack of fish meant long flights each day to neighboring lakes to find food for their hatchlings. The young loons from that first year did not survive. "He couldn't fly in enough fish," Gumm explained.
The state began planting trout fry in subsequent years. Later, the Loon Lake Loon Association – of which Gumm and Poleschook are members – raised funds to help pay for the stocking. Since then, nine hatchlings have survived and five continue to be spotted.
The Ferry Lake male was fiercely protective of his young, Gumm said. He was often on the nest as the eggs hatched and could be seen cruising the lake with the chicks tucked safely on his back during their first two weeks of life.
When bald eagles appeared over the lake, he would spirit the young chicks to a protected shoreline, while his partner stayed behind, wailing and creating a scene to distract the hungry raptors. One day, four eagles showed up at the lake, prompting the male to retreat to the safety of his nest, where he successfully hid his chicks under his wings.
"With four eagles on the lake you don't have much of a chance," Gumm said. "He was absolutely a great protector."
Over the years, the Ferry Lake male and his family became accustomed to Gumm and Poleschook. The loons would sometimes even approach their small boat.
"He knew us very well," Gumm said. "He'd come out and greet us in the spring when we arrived. He'd come and dive under our boat or sit on either side and hoot at us."
The diving birds are territorial and usually stick with the same mate for life. Typically, there's only one breeding pair per lake, Gumm said. The mesmerizing yodel of the bird can be heard echoing across lakes throughout Canada and in the Great Lakes and New England states. Loons are also found in the Northwest, but in lesser numbers.
Idaho has not had a resident breeding pair for "a long, long time," said Chuck Harris, nongame species coordinator with the Idaho Fish and Game Department. The agency has worked with the U.S. Forest Service recently to encourage nesting at several North Idaho lakes.
Washington once had 31 lakes with nesting loons, but the number has plummeted in recent decades because of habitat loss, harassment by power boats and poisoning by lead weights used for fishing, Gumm said. Washington is now the state closest to losing its loons.
Although one of the biggest threats is believed to be fishing nets in the loons' winter habitat along the Pacific coast, Gumm said the use of lead fishing weights is the biggest factor locally in the die-off of the birds. A recent study by Tufts University examined 180 dead loons over the last decade and found that at least half died from lead poisoning after swallowing fishing tackle. The Ferry Lake female was once spotted with fishing line and lead sinkers hanging out of her mouth, but she managed to survive, Gumm said.
Typically, the loons eat the lead after catching a fish that had broken free from an angler's line. Several years ago a male loon was spotted flopping on the shores of Lost Lake. Gumm and others believe the bird, which died, was showing signs of lead poisoning. Gumm and Poleschook have compiled a long list of Washington loons they say have been killed by lead. Their group is working with government agencies to persuade anglers to switch to a less toxic form of fishing weight, such as steel or brass.
"Unless we make some changes, we're going to lose them," Gumm said.
Although it's hard to determine the cause of death, the Ferry Lake male was believed to have drowned in a fishing net, Gumm said. Commercial salmon fishing had been taking place near the area about the time he was found.
The death of the Ferry Lake male is a big loss for a state with few loons, but his surviving mate could return to northeast Washington next month and begin a courtship with another loon, said James McGowan, a wildlife biologist with the Colville National Forest.
"The loss of the male does concern us," McGowan said. "But we have to wait and see what happens this spring."
---