Adam Morrison digs Gonzaga out of a foul situation to beat Xavier, reach second round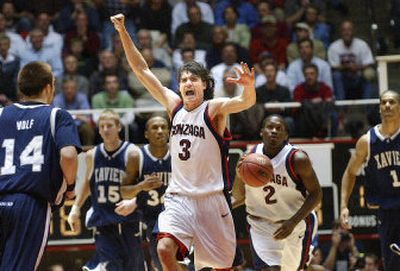 SALT LAKE CITY – Seeming dead in the water with their motor burned out and reaching for the oars, the Gonzaga Bulldogs somehow found their way back to shore once again.
Despite dealing with foul problems, the likes of which they have seldom seen, and facing, in the words of coach Mark Few, "as much adversity as we've seen all year," the fifth-ranked Bulldogs managed to scratch their way back from another serious second-half deficit and chase down Xavier 79-75 in their NCAA tournament opener at the Huntsman Center.
Adam Morrison finished with 35 points, hit a huge 3-pointer and grabbed, perhaps, the most important rebound of his career Thursday evening as the third-seeded Zags (28-3) pushed past the 14th-seeded Musketeers (21-11) and advanced into Saturday's second round, where they will face Indiana, an 87-83 first-round winner over San Diego State, at 5:10 p.m.
"That was a heck of a college basketball game," Few said after watching his resilient Bulldogs outscore Xavier 16-7 over the final 4½ minutes to run their late-season winning streak to 19 games – the longest in the nation. "That was two teams slugging it out to stay alive.
"We've played a lot of games like that this year. We've had a lot of preparation, and these guys did another amazing job in late-game situations."
But rarely, if ever, have the Zags looked as beaten as they did during the game's last TV timeout, which came with just 3 minutes, 56 seconds left.
They were trailing 69-65 at the time, starting point guard Derek Raivio had just joined teammate Sean Mallon on the bench with five fouls and Xavier's Johnny Wolf was looking at two free throws that could have put the Musketeers up by six.
But the freshman guard clanked both foul shots, and Morrison promptly scored at the other end of the court on a tough drive to ignite GU's late-game surge.
The Bulldogs, who had trailed 53-44 earlier in the period following a 9-0 Xavier run that was built on three consecutive 3-pointers, closed to within 71-69 on a putback by J.P. Batista and then took the lead for good at 72-71 when Morrison dribbled to the left wing and calmly drilled a 3-pointer from about 24 feet out.
"All year long, I've wanted to be the guy who that takes the big shots," said Morrison, who made 11 of 21 basket tries in the face of some pretty good defensive work by the Musketeers' Justin Cage. "I got my rhythm dribbling into it and it felt good.
"I was going to take that shot no matter what."
Few followed Morrison's comments by saying, "Welcome to Adam's world. They all feel good to him, by the way. In case you were wondering."
But every bit as important as his late 3-pointer was the rebound he raked down following a Xavier miss that preserved GU's shaky 76-73 lead with 18 seconds remaining.
"I'm not the greatest rebounder on the team," admitted Morrison, who was fouled on the play and pounded the basketball on his head in celebration as he walked back down the court, "so I was pretty happy with myself.
"I knew if I could make the free throws at the end, it would pretty much be over."
He did, and it was, leaving Xavier coach Sean Miller to contemplate what might have been – and marvel at Morrison's performance.
"I can't say enough good things about Adam Morrison, as a player," Miller said. "The word I would use to describe him is 'relentless.' I don't know if I have ever been on a basketball court with an offensive player who is as talented as he is.
"Justin Cage and our team defended him as well, in my opinion, as you can. We had three guys on the ball half the time and he still gets 35 at the end of the night."
Nearly lost amid the array of big shots and big plays made by Morrison, was another terrific performance by Batista. The Bulldogs' mild-mannered senior center finished with 18 points and eight rebounds, despite being one of many Zags in foul trouble throughout the game.
Batista picked up his fourth foul with just less than 14 minutes left. He rested for almost 5½ minutes, re-entered the game and contributed eight big points down the stretch.
The Zags, who were whistled for 25 fouls, finished the game with Mallon and Raivio on the bench and Batista and Erroll Knight playing with four fouls each.
"We hit as much adversity as we've hit this entire year," Few said. "It was tough to stop them at times, and we were having trouble scoring. And then, just with the foul trouble.
"We've never been in that kind of foul trouble all year. I was proud of J.P. to stay in the game. He stayed in from about the (8½-minute) mark on, which saved us."
---