Last chance: Billy Newman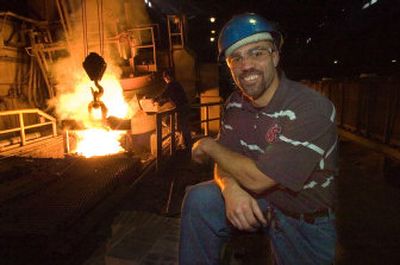 Ask Billy Newman why he is playing arena football and he offers a wide smile and a candid response.
"I'm still trying to figure out why I'm here," Newman said during a break in Shock practice. "Lots of people have told me I'm crazy, including myself."
Newman, 27, has been out of football for more than three years.
After a celebrated career at Washington State University from 1998-2001, he played in the 2001 East-West Shrine game and the All-Star Gridiron Classic. He received the J. Fred Bohler Award, exemplifying the inspiration of the former WSU athletic director and basketball coach, in a vote of his teammates.
Newman had a brief taste of the NFL with Tennessee, but he said he got some bad advice when he filed an injury grievance against the team after his release.
That sent up a red flag for Jacksonville, which wanted to sign him to its practice squad. Newman headed overseas to NFL Europe, but that didn't work out either.
"I learned a lot about pro sports in that year of my life," Newman said. "If I was a single guy, I would have stuck with it, but it was time to move on and start trying to support my family."
Newman settled in Spokane with his wife, took a job at a steel foundry and began coaching football. He's an assistant at North Central High.
Then he heard Spokane had landed an arenafootball2 franchise, stirring his competitive fires.
Newman started a training regimen in December, but tweaked his hamstring in the first training-camp practice.
"It's been one of the toughest things I've ever had to do," Newman said of recapturing his playing shape.
Newman said his employers at Spokane Industries have been supportive – "They bought season tickets" – and flexible with his schedule. His family has been understanding, but he feels guilty about losing time with his 15-month-old daughter.
He is under no illusions that the NFL will be calling. More likely, it'll be a one-season stint and possibly another avenue into coaching.
"No matter what I say, there's always a part of me that just loves being out here and loves the challenge and competition," he said. "I talked to my wife the other day and I said, 'You know what, just one time I want to end this on my terms, just play a year and say OK, I enjoyed it.' "
---