News > Spokane
'Camel farm' relocating
Tue., May 23, 2006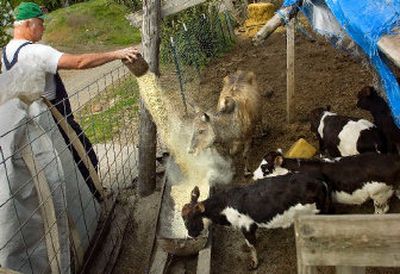 A 20-acre farm soon will be moved from a residential neighborhood on the western flank of Spokane's Beacon Hill, making room for a planned 276-unit apartment complex.
Jeff and Joy Hatch have owned Hatch Farms for 39 years and raised four children on the land northeast of Havana Street and Longfellow Avenue. They also raise hundreds of cows, bulls, chickens, horses, sheep, ducks, geese and pigeons. Breeding exotic animals, including porcupines, tortoises and camels, gives the farm the name locals know it by: "the camel farm."
Jeff Hatch said he's been trying to sell the land for 10 years because it smacks up against a residential neighborhood. He needs more room and plans to move, by fall, to 100 acres in southern Stevens County.
"I have 15 months to move," Jeff Hatch said, referring to a deal struck with the developers. "We'll have it done by September, October at the latest."
He says Hatch Farms is the country's largest breeder of miniature rodeo bulls. The bulls, whose backs top out at 40 inches high, are popular among children getting into rodeos, he said. The farm breeds 30 to 40 of the bulls yearly and they sell for up to $500, Hatch said.
Until the recent deal, Hatch hadn't been quite as lucky selling his property. Five times development proposals came and went, he said. All died because the developers couldn't obtain the housing density they said they needed to make the projects pencil out.
Then, in December, the property was sold to J&L Northern Properties LLC for $350,000, Spokane County property records show. Zoning changes will allow the developer to build 30 percent more housing units than permitted in the Comprehensive Plan, about 10 per acre, according to city documents. The development plans 13 apartments per acre.
The apartments will be spread among 34 four-plexes, seven eight-plexes, and seven 12-plexes, said Craig MacPhee, an engineer with Whipple Consulting Engineers, which is working on the project. The developer also plans to pave parts of Havana and Longfellow and put in open areas, clubhouses and swimming pools, documents show. Private roads and pedestrian walkways also are proposed.
In a strange wrinkle, the property ownership is somewhat of a moving target.
Jeff Hatch said he sold the property to Tom Masters. City documents say it's owned by Quantum Companies and Tom Masters. Spokane County records show it's owned by J&L Northern Properties. MacPhee, the engineer, said the property is owned by MT IV LLC, whose local agent is Consortium Investments.
The Secretary of State shows Thomas Masters as the registered agent for Quantum Brokerage LLC, Consortium LLC and MT IV LLC. It shows Larry Clark as the registered agent for J&L Northern Properties, but lists the same business address as Consortium. In addition, Tom Masters is the first person listed on the sign-up sheet for the public hearing held to discuss the project.
However, when reached at Consortium Investments, Masters denied owning the property.
"It is true that I am the registered agent for an entity called MT IV LLC," Masters said. "I do not own any property on Beacon Hill. I don't own any property over there."
Masters is one of several former Metropolitan Mortgage and Securities Co. executives accused of fraud by the U.S. Securities and Exchange Commission in a civil complaint. The SEC alleges the men falsified financial results by reporting profits from real estate deals in which Metropolitan sold property to buyers who received the money to buy the property from Metropolitan or its affiliates. The deals disguised Metropolitan's true financial condition, the SEC alleges.
Masters denies the allegations. His attorney has said Masters was a whistleblower who was fired for confronting company executives about the questionable business deals.
Regardless of ownership, no nearby property owners testified against the development at a public hearing. In fact, "there was testimony from various people favoring the project because of the adverse impacts associated with the existing use," Hearing Examiner Greg Smith wrote in his decision.
Pete Rayner, who owns a wedding and special event facility to the east, said the Hatches are "wonderful people" but the smell from the farm has been a problem for years. Rayner, who owns 192 acres that wraps around the farm, said he's donating land to the city for additional water tanks to help make the development possible. He said he talked to Masters at the public hearing about the development plans.
"I think he's going to make it work, and I hope he does," Rayner said.
Hatch said some people in the neighborhood also have complained over the years about water runoff from his farm.
"I've been walking on eggs for 10 years trying to keep the neighbors happy and trying to keep the city happy," Jeff Hatch said. "I'm real happy I can get out of everybody's way and everybody can be happy."
Local journalism is essential.
Give directly to The Spokesman-Review's Northwest Passages community forums series -- which helps to offset the costs of several reporter and editor positions at the newspaper -- by using the easy options below. Gifts processed in this system are not tax deductible, but are predominately used to help meet the local financial requirements needed to receive national matching-grant funds.
Subscribe now to get breaking news alerts in your email inbox
Get breaking news delivered to your inbox as it happens.
---