Between demise and development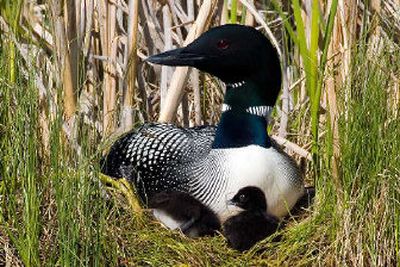 After losing her mate to a fishing net in October, a female loon from Ferry Lake, near Republic, Wash., didn't waste much time in widowhood.
This spring, waterfowl watchers received a pleasant surprise when the aging loon returned alone to her summer home on Ferry Lake and promptly set up nest with a younger male. The new man of the nest, originally from Long Lake, had been on the prowl for several summers but had always been thwarted in his attempts to find a mate, residents said.
"He finally got his chance," said Virginia Gumm, a wildlife photographer and resident of Loon Lake, about 30 miles northwest of Spokane.
The new partnership provides a tiny bit of hope for Washington's loon population, which has crashed in recent decades and is now the closest in the nation to being gone. According to research conducted by Gumm and her partner, Daniel Poleschook Jr., loons have lived in Washington since before the ice age, yet only 12 breeding pairs of the yodeling waterfowl remain.
Loons also once were found on North Idaho's lakes, but none is known to nest in that state today. Nesting platforms have been placed in several spots on Upper Priest Lake and Lake Coeur d'Alene, yet no loons have stayed long enough to start families.
The Coeur d'Alene Tribe has set out three floating platforms on the southern end of Lake Coeur d'Alene, said Nathan Albrecht, a fish and wildlife biologist for the tribe. Loons nest on the shores of lakes, but Lake Coeur d'Alene's level changes depending on the operations of the Post Falls dam.
"There's a few that fly through, but come nesting time, they seem to be gone," Albrecht said. "I'm not really sure why."
Many bird experts believe the region's lakes once were filled with a summertime soundtrack of the diving birds, which noted naturalist John Muir described as "one of the wildest and most striking of all the wilderness sounds, a strange, sad, mournful, unearthly cry, half laughing, half wailing."
Their yodeling songs still can be heard on several lakes in northeastern Washington, including Long Lake near Spokane as well as Ferry Lake. Pierre Lake, near the Canadian border in Stevens County, is host to a new pair this season, Gumm said.
Loons are in trouble because of dangers in their winter habitat along the Pacific coast as well as from the widespread use of lead fishing weights in local waters, Gumm said. Loons often ingest lead after catching fish that have broken free from an angler's line. Even a small lead sinker can kill a loon, Gumm said.
Shoreline development and harassment by powerboaters are other major factors in the decline. Loons seem to tolerate the smaller, quieter fishing boats, Gumm said.
This winter, a young loon originally from Swan Lake, Wash., became stranded on a golf course lake near Portland. Loons are unable to walk long distances and need open stretches of water to gain enough speed for flight. After the golf course lake was drained for repairs, the young bird was stranded.
He was taken to a wildlife rehabilitation facility after being spotted floundering near the side of a road several blocks away. The loon has since been released.
Gumm said she still is waiting for him to return home. "We're looking for him," she said.
With the odds stacked so much against loons, Gumm and her partner were thrilled to see the Ferry Lake female loon partner this spring, only months after her longtime mate had been found dead on Puget Sound.
The female loon is estimated to be about 15 years old – the birds can live to 30 "if they don't get tangled up in lead weights or fishing nets," Gumm said.
Her new mate is half her age and was born on Long Lake. He's known as "Long Neck" because of his gangly body and narrow neck. Gumm and Poleschook have spotted him in recent summers flying over other lakes with loons. He would fly over, blurting out his tremolo flight sound, but males on the other lakes made it known that his company was not needed. Nesting loons are highly territorial.
This spring, when Long Neck flew over Ferry Lake, he finally had his chance. "There was no one to drive him off, so he stuck around," Gumm said.
Next came loon love, and now there's a nest with two eggs. The pair takes turns sitting on the eggs.
The Ferry Lake eggs should hatch late this week or next. Gumm says odds are good for the future chicks. The female is well-experienced at motherhood.
This is likely the first time at fatherhood for her younger mate, but he's learning the ropes, including how to be watchful for eagles and how to respond to other bachelors flying through the neighborhood. "She's teaching the male already what he has to do; she's teaching him a great deal," Gumm said. "He follows her around."
Gumm is trying to raise money to purchase small fish to plant in 19-acre Ferry Lake, which is shallow and prone to fish die-offs in winter. Without the supplemental feeding, loon chicks often starve, Gumm said.
---