Buffeted, battered and blacked out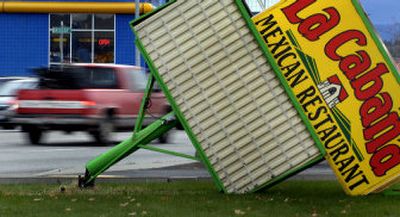 Some residents in the Coeur d'Alene and Spokane areas could be without power for two or more days after a powerful storm that blew across the region early Monday.
Dozens of trees came down around – or on – homes and businesses. Toppled trees blocked streets and driveways, smashed fences, and hit power lines, knocking out electricity to about 20,000 customers.
Avista spokeswoman Robyn Dunlap said more than 2,300 homes still lacked power Monday night. The largest group, about 890 homes, was on Spokane's South Hill.
Other areas that still had large outages Monday night included Coeur d'Alene, with about 450; Kellogg, 330; Moscow and Pullman, 360; and St. Maries, 300.
"A lot of the damage is substantial, and it is just going to take some time to get it back up and running," Dunlap said.
She said Avista hopes to have most of the outages fixed sometime today, but many of those on the South Hill may take until Wednesday.
Another 3,000 customers with Kootenai Electric Cooperative lost power, and about 1,250 members remained in the dark Monday at 5 p.m., spokeswoman Erika Neff said.
Most of the outages were affecting homes south of the Spokane River area.
Contract repair crews were brought in to help, but neither Avista nor Kootenai Electric could say when power will be fully restored. Crews planned to work through the night.
"It could be 24 to 48 hours for some people" in outlying areas, Neff said. That includes the area south of Mica Bay to Rockford Bay.
"We're probably looking at an outage of at least that length in some areas," said Avista spokeswoman Debbie Simock.
"There's just no way of knowing right now.
Although the storm darkened thousands of homes and littered streets with trees, Kootenai County Sheriff's Capt. Ben Wolfinger said he had not heard of any serious injuries.
One large tree fell on Susie Q's, an antique store at 901 Fourth St. in Coeur d'Alene, causing some damage to the shop that opened earlier this year.
U.S. Forest Service Spokesman Dave O'Brien said crews are beginning to assess wind and rain damage in the backcountry.
Because the ground is not yet frozen, the risk is higher for mudslides, O'Brien said.
In Spokane, Gary and Jane Keevy were still in bed when Jane heard a snap.
"I told my husband, oh my gosh, it's one of our pine trees," Jane Keevy said.
The couple's home is surrounded by trees.
The 80- to 85-foot spruce "came out roots and all, and laid over the road," she said.
"It missed our house. It missed our new deck." But the branches went through the windshield of her husband's 1979 Chevy van.
"We were fortunate," Jane Keevy said.
The tree, estimated to be at least 60 years old, fell across West 26th Avenue between Lincoln and Monroe streets, blocking the roadway, and the approach to Wilson Elementary School.
"By the grace of God, it was early and the kids weren't coming to school yet," Jane Keevy said. Concerned about the kids who would be arriving soon, Keevy called 911.
"A city crew was here within 20 minutes sawing the tree up."
Kootenai Joint School District, Plummer Worley School District and St. Maries Joint School District were closed Monday, due to power outages.
For those without power, Simock had the following recommendations:
•Although temperatures are not expected to dip too far below freezing, it might be a good idea to find a backup place to spend the night.
•Unplug unnecessary appliances and lower the thermostat.
These appliances can cause a surge in demand when power is restored – sometimes it's enough to knock out the system.
•Keep your hands off the fridge.
Dry ice might be a good idea to save your food from spoiling.
•Don't use grills of any sort indoors.
In addition, if residents turn on their porch lights it helps repair crews see which neighborhoods have power and which do not.
---