Windstorm fells trees, cuts power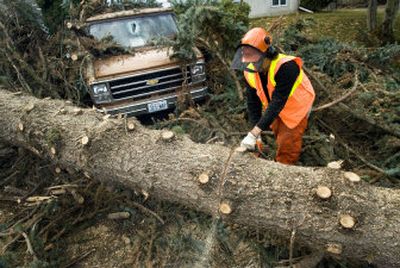 Some residents in the Spokane and Coeur d'Alene areas could be without power for two days or more after a powerful storm early Monday.
More than 20,000 utility customers across the Inland Northwest lost power during the storm, officials said. Avista spokeswoman Robyn Dunlap said about 2,300 homes still lacked power Monday night. The largest group, about 890 homes, was on Spokane's South Hill.
Other areas that still had large outages Monday night included Coeur d'Alene, with about 450; Kellogg, 330; Moscow and Pullman, 360; and St. Maries, 300.
"A lot of the damage is substantial, and it is just going to take some time to get it back up and running," Dunlap said.
She said Avista hopes to have most of the outages fixed sometime today, but many of those on the South Hill may take until Wednesday.
"Avista's main focus is to restore power to customers as quickly and safely as possible," utility spokeswoman Debbie Simock said. "Avista crews are concentrating on areas that when repaired will restore service to the largest number of customers."
Avista and Kootenai Electric Cooperative, which had about 1,250 customers without power Monday afternoon, brought in contract crews to help restore power. Most Kootenai Electric customers who lost power are south of the Spokane River.
However, it could be Wednesday night before all customers get power, Simock said.
The line repairs could be done just in time for the next weather surge in Eastern Washington and North Idaho. Today's weather is expected to be much milder but blustery conditions are forecast for Wednesday, according to the National Weather Service. Rain and afternoon wind gusts of 35 mph are expected.
Monday's storm wreaked havoc throughout Washington and Idaho. Several schools started two hours late in Spokane Valley and outlying areas, and three districts in Idaho were closed for the day. No serious injuries were reported in Spokane or Kootenai counties, officials said.
Spokane police and fire agencies responded to 60 calls throughout the city for trees and power lines across roadways, flashing traffic signals, or trees and branches that struck houses, said Spokane Police Department spokesman Cpl. Tom Lee said. "The South Hill was hit hardest, although no area of the city was spared from damage."
Gary and Jane Keevy were in bed at 6:30 Monday morning when Jane heard a snap.
"I told my husband, 'Oh, my gosh. It's one of our pine trees,' " Jane Keevy said. The couple's home is surrounded by trees.
The 80- to 85-foot spruce tree "came out roots and all, and laid over the road," she said.
"It missed our house. It missed our new deck." But the branches went through the windshield of her husband's cherished 1979 Chevy van.
The tree, estimated to be at least 60 years old, fell across West 26th Avenue between Lincoln and Monroe streets, blocking the roadway and the approach to Wilson Elementary School.
"By the grace of God, it was early and the kids weren't coming to school yet," Jane Keevy said.
But concerned about the children who would be arriving soon, Keevy called 911. "A city crew was here within 20 minutes sawing the tree up."
Large trees also fell at 40th Avenue and Hatch Street, 24th Avenue and Cuba Street, and onto a house at 32nd Avenue and Fiske Street, Lee said.
Spokane city parks lost two of their 27,000 trees, city arborist Jeff Perry said.
A section of the bank along Aubrey L. White Parkway was eroded in the storm, said city spokeswoman Marlene Feist, reducing it to one lane about a quarter-mile south of the Riverside Park Water Reclamation Facility. Crews will try to repair the damage today.
---