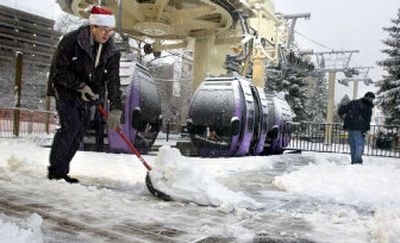 Heavy snow sent about 200 vehicles sliding off roads across the Inland Northwest on Sunday.
The storms might have passed, but the slick driving conditions could remain for days. Temperatures were plunging rapidly after the storm passed Sunday night – record subzero temperatures could be here by early Wednesday – prompting concerns that the rain and snow could freeze rock hard.
"There's so much moisture on the roads. That's going to be a great little ice skating rink out there," Idaho State Police Sgt. Rick Field predicted Sunday night.
About 3 inches fell on most parts of Spokane on Sunday afternoon, creating a chaotic day for drivers returning home after Thanksgiving. The Washington Department of Transportation was predicting 50,000 vehicles would try to cross snow-choked Snoqualmie Pass on Sunday.
The Washington State Patrol had responded to about 150 crashes across the Inland Northwest as of 9 p.m. Sunday. Although serious injuries were reported after a nighttime crash on U.S. Highway 395, about 10 miles north of Spokane, a WSP dispatcher said there were no other reports of serious injuries from storm-related crashes.
In North Idaho, where about a half-foot of snow fell in lower elevations, troopers dealt with about 30 crashes and slide offs, Field said. Despite officers' repeated pleas for travelers to stay home or delay their driving, the highways were packed Sunday.
"I've never seen so much traffic," Field said. "It was just bumper to bumper."
The same was true Thanksgiving, he said, when another storm iced up local roads. Field said many drivers don't have the proper tires. All-season tires might work for a full-size vehicle, he said, but smaller vehicles should use tires with a more aggressive tread.
Field also urged stranded drivers not to abandon their vehicles, which many did during the recent snowy weather. Field advised stuck drivers to wait by their vehicles, so long as they have the proper cold weather gear. "Just sit tight. We'll get to everybody," he said.
At the height of the storm late Sunday afternoon, tow trucks were as much as four hours backlogged.
"We're just completely slammed. It's just crazy. They're running off the road everywhere," said Karen, a dispatcher for Sunset Towing in Coeur d'Alene, who declined to give her last name.
Law officers across Spokane County had responded to 73 different crashes and slide offs during the peak of the storm, said sheriff's Sgt. Dave Reagan.
"The trip to work from Cheney was a little slow. I drove in on I-90 at about 45 the whole way," said Drew Thacher, a student at Eastern Washington University who works in downtown Spokane.
"I saw other cars in the ditch along the freeway, but there were tow trucks and police already there helping them," said Thacher, 20. "I think the trip home to Cheney tonight will be slow, very very slow."
Slide offs and minor crashes of a more enjoyable kind were spotted on the sledding hill in Coeur d'Alene's Cherry Hill Park. The hill was packed with families and young people, including Scott Hanberry and his two daughters, Hannah and Haley.
"There's still a few little mud holes, but we're having a great time," Hanberry said, after completing a run. Hanberry moved to Coeur d'Alene three years ago from New Orleans. He grew up in nearby Mississippi.
"Snow's a lot better here than in Mississippi," he said.
The snow should remain on the sledding hills for at least the next several days. The storm system that brought all the snow is being replaced by cold air from Canada. By Sunday night, the fast changeover was already taking place near Wenatchee, where some weather stations saw temperatures plummet from near freezing to 12 degrees in just a few hours, according to the National Weather Service.
Scattered snow showers could continue to blow through the area through Tuesday, said Jonathan Fox, a meteorologist with the agency's Spokane office. The big story, however, will be the cold, especially by early Wednesday, when a low of minus 7 is predicted.
The record low for the date, minus 8 degrees, was set in 1896.
"I wouldn't rule out records. All we need is clear skies and light wind," Fox said.
---