News > Features
'Loop Press Exhibit' a mix of perspectives
Thu., Sept. 7, 2006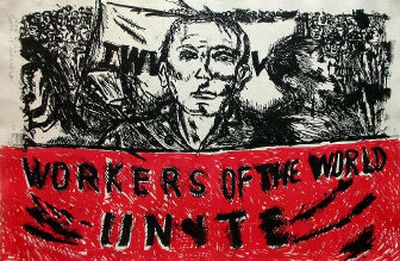 Original prints created by Whitworth College visiting artists are center stage in the campus' Koehler Gallery.
The "Loop Press Exhibit," highlighting 14 images, opens Monday and runs through Sept. 22.
"Each of our visiting artists has his or her own unique style and has produced work with different content in terms of subject matter," says gallery director Scott Kolbo.
The college's visiting artist program strives to bring in working professionals with a variety of theoretical points of view.
"We want to expose students to artists with a range of approaches and cultural backgrounds," says Kolbo.
The show features work by Chicago-based muralist José Guerrero; painter Ric Gendron of the Colville Confederated Tribes; New York City painter Makoto Fujimura, a native of Japan; emerging artist Esme Guenther, a 2002 Whitworth alumna born in South Korea; and Spokane sculptor and painter Harold Balazs.
Their limited-run prints made on the college's Loop Press are available for purchase.
"The money raised from the prints we sell 'loops' back into a fund that brings more visiting artists to the campus," Kolbo explains.
An opening reception is Tuesday from 5 to 7 p.m. in the gallery in the Fine Arts Building on the college grounds, 300 W. Hawthorne Road. Kolbo will talk about the Loop Press and the exhibition following the reception at 7 p.m.
The free exhibit runs through Sept. 22. Gallery hours are Monday through Friday from 10 a.m. to 6 p.m.
Coeur d'Alene art walk
Downtown Coeur d'Alene is hosting its monthly art walk on Friday from 5 to 8 p.m.
Galleries are opening new shows and many downtown businesses are displaying arts of all types and mediums:
" Art Spirit Gallery, 415 Sherman Ave.: "50 New Oil Paintings" by Mel McCuddin.
" Coeur d'Alene Galleries, Coeur d'Alene Resort lobby: landscapes by Charles Pabst.
" Devin Galleries, 507 Sherman Ave.: "The Museum Collection" featuring works by Russian artist Yuri Gorbachev.
" Eclectic Artisan's Gallery, 211 Coeur d'Alene Ave. No. 101: works by Jerry Mitchell, along with oils, acrylics, watercolors and photography.
" Erlendson Art Glass, 116 E. Lakeside Ave.: hand-blown glass art and demonstrations.
" Frame of Mind Gallery and Framing, 119 N. Second St.: painters Carrie Stuart Parks, Carl Funseth, Barbara Peretti, Jim Carkhuff and Nona Hengen, and raku potter Bill Meehan.
" Northwest Artists, 217 Sherman Ave.: oils, watercolors and pastels by Jackie Jewett, Suzanne Jewell and Dianne Munkittrick.
"The Painter's Chair Gallery, 223 Sherman Ave.: works by Impressionist Tom Wakely and a Sept. 11 memorial sculpture by Dorothy Fowler. Live music.
" Summers Glass, 211 Sherman Ave.: colorful fused glass works; free workshop.
" Texture, 107 N. Second St.: handmade, one-of-a-kind artwork, acrylic paintings, sculpted jewelry, painted glassware, clothing and more.
" "Fountains of Wishes," Sherman Avenue downtown.
Additional Sherman Avenue venues displaying artwork include All Things Irish, Boucle's Yarn, Casa Savie, Coeur d'Alene Symphony Orchestra and Art Association, Figpickels Toy Emporium, Poppy, Sweetpea Home Interiors, Tiffany Blue and Worthington's Fine Antiques.
Downtown restaurants featuring art include Barrel Room No. 6, Bella Rosa, Brix, The Beacon, Cafe Doma, Crickets Steakhouse, Pita Pit, Toro Viejo and The Wine Cellar.
Republic 'dolls' up
"The Republic of Dolls," an exhibit by gallery members, is under way at the Gold Mountains Gallery in Republic, Wash.
"The only way to grow as an artist is to constantly crowd the limits of your ability," says gallery representative John-Day Key in a news release.
"With this in mind, Gold Mountain Gallery members are joining together to each produce dolls and figurines, even if their normal medium is quite different."
Western artist Everett Russell created a cowboy figurine. An abstract artist fashioned a paper doll. A painter welded a doll from old hardware and car parts. Others crafted more traditional dolls from fabric.
The show will run through September at the gallery, 852 S. Clark St. in downtown Republic. An opening reception is Friday from 5 to 9 p.m. The gallery is open Tuesday through Saturday from 10 a.m. to 6 p.m.
'Italy' in Naples
North Idaho artist Robert Bissett is showing a series of paintings based on his recent trip through Tuscany and Venice.
"Visions of Italy" opens Friday in the Naples Gallery between Sandpoint and Bonners Ferry on Highway 95 at milepost 495 ½.
"Bissett has gone for the heart of Italy," says the gallery's Suzanne Lumlin in an e-mail, "and given us an emotional response to some of the most beautiful vistas in the world."
Meet the artist at a reception Friday from 4 to 9 p.m. The show is up through September. Regular gallery hours are Thursday through Saturday from 10 a.m. to 6 p.m. For information call (208) 267-6575.
Bank Left Gallery
Linda Dillard's exhibit of oil on canvas paintings runs Saturday through Sept. 30 at the Bank Left Gallery in Palouse, Wash.
"Linda's work is full of emotions, events and mystery," says gallery director Nelson Duran. "She is influenced by changes in nature such as the effects of global warming and deforestation."
Meet the artist on Saturday from 1 to 5 p.m., with music by the Moscow string group Trio Dolce. The show runs through Sept. 30.
The gallery, 100 S. Bridge St. in Palouse, is open Wednesday through Saturday between 10 a.m. and 5 p.m. For information call (509) 878-8425.
UI Reflections Gallery
"Found and Round: Chronicles of a Scavenger," a solo exhibit by Gerri Sayler, opens today at the University of Idaho Reflections Gallery on the Moscow campus.
Sayler says in an e-mail that her work "explores ideas of time, texture and memory – and what is revealed, what is hidden."
She is a Bachelor of Fine Arts candidate at UI and director of Above the Rim Gallery in Moscow. Her show includes collage, assemblage, sculpture, prints and photography.
An artist's reception is today from 5 to 6 p.m. The show is up through Sept. 22.
Local journalism is essential.
Give directly to The Spokesman-Review's Northwest Passages community forums series -- which helps to offset the costs of several reporter and editor positions at the newspaper -- by using the easy options below. Gifts processed in this system are not tax deductible, but are predominately used to help meet the local financial requirements needed to receive national matching-grant funds.
Subscribe to the Coronavirus newsletter
Get the day's latest Coronavirus news delivered to your inbox by subscribing to our newsletter.
---
Subscribe and log in to the Spokesman-Review to read and comment on this story