News > Nation/World
Gunman opens fire at Montreal college
Thu., Sept. 14, 2006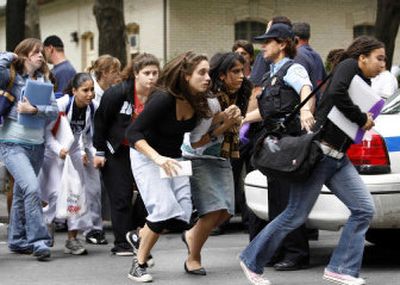 MONTREAL – Scores of panicked teenagers fled into the streets of downtown Montreal after the shooting began. Some had clothes stained with blood; others cried, clung to each other and clutched their backpacks. Many held their hands above their heads to show police they were not carrying a weapon.
The attacker's bloody body, covered in a yellow sheet, lay next to a police cruiser near an entrance to a building at Dawson College.
"I was terrified. The guy was shooting at people randomly. He didn't care, he was just shooting at everybody," said student Devansh Smri Vastava. "There were cops firing. It was so crazy."
A man in a black trench coat and a mohawk haircut opened fire Wednesday at the Montreal college, wounding at least 20 people before police shot and killed him, witnesses and authorities said. One young woman later died.
Police dismissed suggestions that terrorism played a role in the lunch-hour attack at Dawson.
Witnesses said the attacker started firing outside the college before walking in the front door. Much of the shooting was in the second-floor cafeteria, where students dropped to the floor and lay in terror.
At times the gunman hid behind vending machines before emerging to take aim – at one point at a teenager who tried to photograph him with his cell phone. Teachers ran through the halls, telling everyone to get out of the building.
Police rushed to the scene, hiding behind a wall as they exchanged fire with the gunman, whose back was against a vending machine, said student Andrea Barone, who was in the cafeteria. He said the officers proceeded cautiously because many students were trapped around the assailant, who yelled "Get back! Get back!" every time an officer tried to move closer.
Eventually, Barone said, the gunman went down in a hail of gunfire.
After police killed the gunman, officers helped the students leave the cafeteria, crawling out on their bellies along a wall.
Police Sgt. Francois Dore said that the attacker was a 25-year-old man from the Montreal area, but he did not provide a name or any further details about the man. Dore said his car was still at the school and police were searching his apartment. Police spokesman Ean Lafreniere said there was just one gunman.
Although police initially suggested the gunman had killed himself, Police Director Yvan DeLorme later said that "based on current information, the suspect was killed by police."
Two nearby shopping centers and a day care center also were evacuated.
Montreal General Hospital said 11 people were admitted, including eight who were in critical condition. Nine others were taken to two other hospitals.
"Today we have witnessed a cowardly and senseless act of violence unfold at Montreal's Dawson College," Canadian Prime Minister Stephen Harper said. "Our primary concern right now is to ensure the safety and recovery of all those who were injured during this tragedy."
Dawson is more of a pre-college division than a traditional university. It was the first English-language institution in Quebec's network of university preparatory colleges when it was founded in 1969. It has about 10,000 students.
Local journalism is essential.
Give directly to The Spokesman-Review's Northwest Passages community forums series -- which helps to offset the costs of several reporter and editor positions at the newspaper -- by using the easy options below. Gifts processed in this system are not tax deductible, but are predominately used to help meet the local financial requirements needed to receive national matching-grant funds.
Subscribe to the Coronavirus newsletter
Get the day's latest Coronavirus news delivered to your inbox by subscribing to our newsletter.
---