Daugherty likes where she lands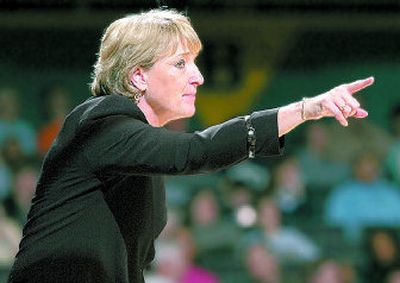 PULLMAN – Step one in June Daugherty's rebuilding process of the Washington State women's basketball program has nothing to do with the game itself. It's all about the real estate.
Daugherty, barely one week into her tenure with the Cougars, is in the process of purchasing former men's coach Dick Bennett's Pullman home. She insists that the purchase has more to do with the sweeping views and the comfortable entertaining space, but …
"We're hoping some of Dick Bennett rubs off, leaves some ghosts," her husband, Mike, said.
June Daugherty could probably use all of that positive karma and then some these days. Standing in front of her is the toughest women's basketball coaching job in the Pac-10, certainly one that poses more challenges than the one she was recently pushed away from at Washington.
But it doesn't take long to notice that Daugherty – even while sitting in a nearly-empty office and surrounded by other empty rooms as she works to fill her staff – oozes with confidence and energy.
Her voice is loud and clear in conversation, and she's already endeared herself to a number of locals with the occasional, thinly veiled jab at her former employer, the Cougars' archrival.
"It's been a whirlwind," she said of her first week on the job. "At the same time, it's been really fun. I've met a lot of great people and have been met with a lot of hugs and enthusiasm, and that's exciting."
If Daugherty is being met with excitement at WSU, it seems that it will be just a matter of time before she returns the favor. And she's even trying to extend that to some of the least likely Cougar fans in the state.
"Her energy is contagious," said Cameo Hicks, a star guard at Washington who just finished her senior season. "She loves the game. She's in game mode every single time she steps on the court.
"She told me to come down to Pullman to get some Cougar gear. I kind of deferred on that one. … I'm definitely rooting for June. The Huskies, Washington, they're my team. But it's like any time when you have a close, personal friend at the opposite side of the state. You're rooting for your team, but then you're also rooting for your friends."
Daugherty has found strength in recruiting players like Hicks in the past. She brought in a top-10 class at Washington last fall, one that she will end up working against over the coming seasons.
That's a skill that will almost certainly be at the heart of her professional fortune at WSU, with the Cougars historically struggling to bring in players that are at the caliber of most opponents'.
But right in character, Daugherty is not one to focus – or at least publicly discuss – just how difficult the job ahead of her will be.
"I'm not going to go out and (make a) guarantee, anything like that," she said. "It's just like I told the players. You don't focus on winning or on wanting to win. Everybody wants to win. You have to get your mind set on the process of winning and how to win. That, to me, that's where my energies go. I think when you do that you keep your sights on each step you have to take as a coach."
Each step along the way will be taken with Mike Daugherty, too. Her husband has served as her assistant coach for 17 seasons, and when he joins her on the sideline at WSU it'll make a third school for the couple's coaching career.
Both June and Mike Daugherty said their coaching skills are complementary, with June more oriented on the organization of a program and Mike more involved with reworking basketball fundamentals. But the two – who originally met while playing at Ohio State in the 1970s – leave little doubt that theirs is a relationship that has centered on the court.
"During a season, basketball pretty much consumes you," Mike said. "And I think that's probably true with most people that coach. I don't think any coach leaves it at the door to the house. The only difference is, we run into each other all the time."
Added June: "You need to not necessarily be glued together 24-7, especially with the intensity of raising a family and a high-level job like coaching at a major Division I institution. We take our breaks; we have our separate interests. Mike loves to fly fish and he's pretty good at it. He'd tell you that I'm a professional shopper."
But both Daughertys seem to recognize that there will be little time for outside interests in the coming months.
WSU women's basketball has a long way to go after another last-place finish, and it'll be up to this coaching couple to see if it can be done.
"It's a big puzzle, there's no doubt about it. It's a big puzzle," June said. "But once we get the puzzle put together, I think things will start to get back to normal.
"It's thrilling to have this opportunity. Yeah, it's a lot of responsibility and a lot of work. I feel like I'm up to the challenge."
---